Newspaper review: Central banks aim to boost economies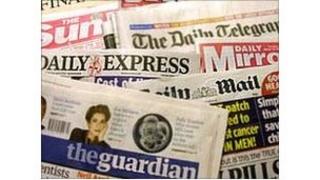 There is consensus in the papers that the Bank of England is to begin another round of quantitative easing.
The Independent says although growth was boosted by 2% in 2009, the effects may be less dramatic this time.
The Daily Telegraph reminds us that when the bank tried the tactic again it simply pumped up inflation.
Meanwhile, the US Federal Reserve's $400bn (£260bn) plan to help the US economy is seen as a radical intervention by the Guardian.
'Ragbag party'
As the Liberal Democrats head home from their conference, the papers reflect on the party's performance.
The Daily Telegraph says party members were largely supportive of the coalition, despite dire poll ratings.
The Guardian feels Mr Clegg's talk of doing the right thing worked, but he now has to see if lost voters agree.
The Sun says the "ragbag" of a party is out of tune with public opinion. And the Daily Mail says it is high time David Cameron showed who was in charge of the government.
Caring skills
The Palestinian Authority's plan to apply for full UN membership left the UK and the three other EU states on the Security Council caught in the middle, according to the Financial Times.
The FT says diplomats are hoping a vote on the bid can be averted.
The Times highlights a warning from the Royal College of Nursing that too many new nurses are lacking in care as they have spent too little time on wards.
And the Daily Mail claims our patience at queuing fails after seven minutes.
Out of Time
Photographs of two boys, aged eight and nine, wrestling in a cage fighting ring feature in the Daily Mirror.
It expresses its revulsion over the images taken at a Preston social club.
Finally, the Times laments news that "colossal era-defining" US rock band REM are splitting up after 31 years and record sales of more than 70 million.
The Guardian says REM's fortunes have waned in recent years, but they will be remembered as one of the most important bands of the past 30 years.