NHS to overhaul £11bn IT project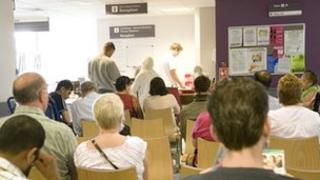 The board running an £11bn IT project for the NHS is to be scrapped, allowing hospitals to choose their own computer systems, the government is to announce.
A review of the National Programme for IT has decided there is no confidence its plans will be delivered.
A government source said elements of the programme would remain but ministers would take direct control.
The scheme, set up in 2002, aimed to link all parts of the NHS in England, but became known for delay and expense.
Ministers reconfigured the scheme last year, but after a fresh review has decided to let hospitals choose their own systems rather than relying on a nationally imposed programme.
A government source said trusts would still be able to share patient information, and the appointment service and email system would remain.
'Modernised NHS'
Health Secretary Andrew Lansley will say: "Labour's IT programme let down the NHS and wasted taxpayers' money by imposing a top-down IT system on the local NHS, which didn't fit their needs.
"We will be moving to an innovative new system driven by local decision-making.
"This is the only way to make sure we get value for money from IT systems that better meet the needs of a modernised NHS."
In July, the Commons public accounts committee criticised the programme for "no longer delivering a universal system".
It said the original objective was to ensure every NHS patient had an individual electronic care record which could be rapidly transmitted between different parts of the NHS.
But its report concluded: "This intention has proved beyond the capacity of the department to deliver and the department is no longer delivering a universal system.
"Implementation of alternative up-to-date IT systems has fallen significantly behind schedule and costs have escalated."
BBC political correspondent Ross Hawkins said the government wants to put pressure on the companies involved to rethink contracts and reduce taxpayers' costs.
It also wants to remind patients of the perceived failings of an expensive scheme created by a Labour government, he added.