Plan to scrap medical negligence legal aid opposed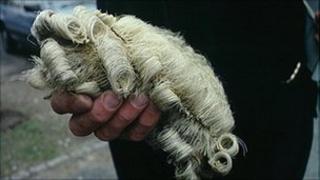 A charity has begun a legal challenge over government proposals to axe legal aid for victims of medical negligence.
Action against Medical Accidents (AvMA) is seeking a judicial review of the plans it calls "completely irrational".
It fears the most vulnerable people who are injured by negligent NHS treatment will be denied access to justice.
The Ministry of Justice says victims will still have access to solicitors through "no win, no fee" agreements, which it is reforming.
AvMA says the government has failed to listen to the overwhelming arguments for keeping legal aid for clinical negligence.
'Spiralling costs'
It says legal aid spending on clinical negligence, which stands at around £17m, is a tiny proportion of the total £2.2bn budget.
The charity's website states that some of the "needy and deserving" victims of clinical negligence would be "denied access to justice".
"It will also harm the NHS's work on patient safety, will probably cost the taxpayer more overall and will certainly add significantly to the NHS bill," it says.
The English system of Legal Aid was established after World War II, offering access to justice regardless of financial status.
But costs have spiralled in recent years and ministers say the current annual bill is too high.
The government wants to reduce the current £2bn bill by around £350m a year in England and Wales by 2015.
The plans to scrap legal aid in medical negligence cases are already before parliament, in the Legal Aid, Sentencing and Punishment of Offenders Bill.
Only children or those on benefit level income currently qualify.
Ministers are reforming "no win, no fee" cases in England and Wales so that lawyers can no longer claim "success fees" from the losing side.
Justice Secretary Ken Clarke has said they should instead receive a share of the damages.
The government hopes the changes will act as a disincentive to anyone bringing "spurious cases".
But critics warn they could restrict access to justice for poorer claimants.
AvMA says the "no win, no fee" reforms will make many clinical cases uneconomic and that solicitors will be unable to take as many of them on as they do now.
That means vulnerable people will be unable to bring good claims in respect of serious injury, it adds.
Mr Clarke has suggested that financial help in any civil cases should only be routinely available when "life or liberty" was at stake.