London 2012: Young Games Maker applications open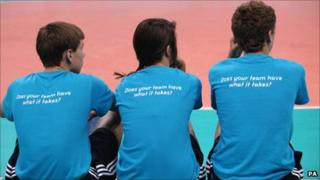 Applications have opened for the London 2012 Young Games Maker programme, the volunteering project for 16 to 18-year-olds at next year's Olympics.
Organisers want more than 2,000 young people to take up volunteer positions, with applications for the posts being made on behalf of teams or groups.
Roughly 250 teams of youngsters will be needed for roles like carrying athletes' kit at Games venues and distributing official results sheets.
Applications close on 31 October.
Team leaders of organisations like youth or sports clubs, community and volunteering groups and schools and colleges who are part of the Get Set Network can apply via the London 2012 website.
Participants must be under 18 on 1 January 2012 but 16 or over on 1 July 2012.
Team sizes at the Games can vary between two and 18 people, with a team leader for every 10 volunteers.
Locog chair Seb Coe said: "We are looking for exactly the same qualities in our Young Games Makers as we are with our adult volunteers.
"They must be the very best team players, ready to step forward and give their all to making the Games great.
"In return, these young people will get a once in a lifetime opportunity to play their part in delivering a world-class event.
"The memories and experiences that they will take away with them will last a lifetime, as will the sense of pride and achievement and the friends they will make.
"As a result, I hope we inspire our Young Games Makers to volunteer or stay involved in sport long after the Games have finished."
Minister for Sport and the Olympics Hugh Robertson, said: 'This will give those aged 16 to 18 a fantastic opportunity to play a role in the world's greatest sporting event and gain worthwhile experience in volunteering.
"I would encourage everyone to get involved and gain a valuable addition to their CV."
A pilot Young Games Maker team from East London Business Alliance worked at the Beach Volleyball test event this summer.
Team Leader Erica Chamberlain said: "To be sharing the stage with world-class athletes and knowing that our team were vital to the smooth running of the sport was such an honour and left everyone with a real sense of achievement."
Applications to the adult Games Maker programme have closed and the first successful applicants were notified on Wednesday.