London 2012: O2 Concert concludes Olympic Truce events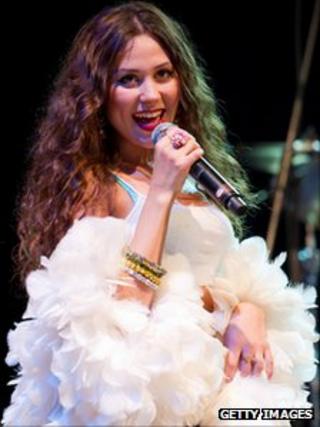 A concert is ending a day of events in London on Wednesday to promote London 2012's Olympic Truce programme and mark the UN's International Day of Peace.
Razorlight and Eliza Doolittle headline the Peace One Day concert at the capital's O2 Arena.
Children at Swanlea School in Tower Hamlets also took part in activities to promote the idea of the truce.
The Olympic Truce originated at the ancient Games and was revived for the modern era in the 1990s.
Dating from the ninth century BC, it was drawn to allow athletes, artists, their families and sports fans to travel to and from the Games in safety.
Wars, legal battles and death penalties were suspended during the truce.
The International Olympic Committee reintroduced the idea to try to protect the Games and modern athletes' interests, and to try to promote peaceful solutions to conflicts around the world. It is supported by the United Nations.
British sprint hurdler and London 2012 hopeful Andy Turner, who won bronze at the World Championships in Daegu in August, was at the school on Thursday.
He said: "The Olympic and Paralympic Games are a fantastic demonstration of how the world can come together and compete in peace.
"Sport is a brilliant tool for bringing young people together."
Locog chair Seb Coe said he hoped the Get Set Olympic Truce programme would teach children to use sport to resolve conflict in their schools and communities.
International Olympic Committee president Jacques Rogge said: "Sport has the power to reach many people across the globe and, in essence, is a language understood by everyone.
"With the inspiring Get Set Olympic Truce programme, young people will discover that sport transcends all differences. Sport combines friendship, solidarity, fair play and universality and that practising sport is a human right."
Among the events also taking place on Wednesday was a University of Ulster project to promote leadership and community cohesion in Northern Ireland schools.