Fletcher friend's 27-year quest for justice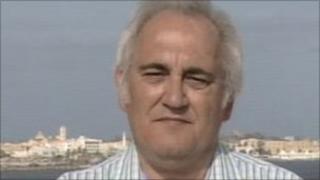 For John Murray finding the killer of PC Yvonne Fletcher has been a lifetime's preoccupation.
He was standing a few feet from his friend and colleague in St James Square London, on 17 April 1984, when, without warning, a gunman opened fire from inside the Libyan embassy, spraying a crowd of peaceful anti-Gaddafi demonstrators with bullets.
"At first I thought someone had let off a firecracker, and that Yvonne had tripped and fallen over," he said.
She had been shot in the abdomen. More than a dozen anti-Gaddafi demonstrators had also been injured.
"In the ambulance on the way to hospital I told her I'd find the people who did this and make sure they were brought to justice. Yvonne was 25 years old, five-foot-nothing, a little bubbly bundle of energy. When the surgeon told me she'd died, I just broke down."
This week, John travelled to Libya to find out whether the change of regime there had brought the prospect of justice for Yvonne Fletcher any closer.
Wanted man
Only one of three original suspects is still alive. Matouk Mohamed Matouk left the Libyan embassy, and the UK, claiming diplomatic immunity from prosecution, and returned to Libya.
There, he went on to become one of the leading figures in the Gaddafi regime. He is a wanted man in Libya now, accused of crimes against the Libyan people. He disappeared in late August. Like Col Muammar Gaddafi himself, Matouk is on the run.
For years, John has accused successive British governments of letting the Yvonne Fletcher case grow cold, in the interests of improving diplomatic relations with Gaddafi's Libya. The British government has always denied this, insisting that the murder inquiry is extremely sensitive and is ongoing.
Earlier this month, documents recovered from Libyan government offices confirmed that Matouk was a key player in forging Libya's new relationship with the west a decade ago.
One document showed that British intelligence service MI6 had requested a meeting with Matouk to discuss the decommissioning of Libya's weapons of mass destruction and the abandonment of its nuclear programme.
Britain helped transform Gaddafi's Libya from pariah state into ally in the "war on terror". But the Yvonne Fletcher murder case was - it seemed to John Murray - quietly forgotten in the process.
We went with John Murray to look for Matouk's house. We stopped at a check-point in a neighbourhood nearby. It was manned by fighters who had helped liberate Tripoli a month ago.
Speechless
John asked their commander whether he knew about the Yvonne Fletcher case.
"More than 50% of the Libyan people know about Yvonne Fletcher," he said. "Our religion requires that whoever committed this crime be brought to justice, no matter whether the crime was committed in Libya or elsewhere."
He showed us how to get to Matouk's house.
We drove out of the city into the countryside. We came to a walled compound and a gate chained shut. A security guard opened it for us. A long drive way led to an imposing three storey farmhouse. As you approach you pass through a vineyard, now overgrown, the unharvested black grapes parched by the summer sun.
Matouk kept a little private zoo here; the animals are long gone but the cages are intact. There is a swimming pool, a pavilion housing an enormous function room the size of several basketball courts.
You enter the house through an impressive covered portico. I watched John Murray's reaction. He was speechless. We passed room to luxurious room.
"It's a little palace," John said finally. "This was his reward. A life of luxury. In my wildest dreams I never thought I'd be standing in this house. I've been waiting 27 years for this".
Assurances
We contacted the National Transitional Council. Vice-Chairman Abdel Gogha, who is still in the eastern city of Banghazi, spoke to John by telephone.
"Can you give me an assurance that, if Matouk is caught, he will stand trial for the murder of my friend Yvonne Fletcher?" John asked.
"Matouk is wanted for crimes against the Libyan people," Gogha replied. "This includes the murder of Yvonne Fletcher because it was committed from the Libyan Embassy. It is also a crime against Libyans. He will be prosecuted for this in Libya."
John asked about prosecution in a UK court. There is no extradition treaty between the two countries. Extradition is unlikely. Gogha was non-committal. "This would be a legal matter, to be decided by a Libyan court," he said.
I asked John whether his trip had been worth it.
"I will go back to London a happy man," he said. "I think there has been more progress in the last few days than in the previous 27 years. I feel as though I've gone a long way to fulfilling my promise to Yvonne".