Cameron pledge to National Trust over countryside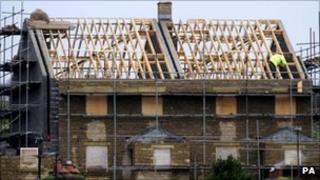 David Cameron has defended plans to simplify the planning system, saying they aimed to balance environmental and social benefits with economic ones.
In a letter to the National Trust, which has criticised the draft National Planning Policy Framework, he vowed to protect the "magnificent countryside".
Campaigners fear a new "presumption in favour of sustainable development" would extend urban sprawl in England.
The National Trust said it welcomed the prime minister's personal intervention.
"Poorly designed and poorly located development is in no-one's interest," Mr Cameron wrote in a letter to director general Fiona Reynolds, seen by the Daily Telegraph.
"Let me say at the outset that I absolutely share and admire your commitment to the countryside, and wholeheartedly agree that policymakers have an enormous responsibility to our environment.
"Both as prime minister, as a rural constituency MP, and as an individual, I have always believed that our beautiful British landscape is a national treasure.
"We should cherish and protect it for everyone's benefit."
In a move aimed at making the planning system less complex and more accessible, ministers want to replace more than 1,000 pages of regulations with just 52.
Mr Cameron said "sustainable development" would be defined to include a reference to the environmental and social impact of building.
"Our reform proposals are intended to simplify the system, strengthen local participation and secure sustainable development," he told the National Trust.
"I believe that sustainable development has environmental and social dimensions as well as an economic dimension, and we fully recognise the need for a balance between the three.
"Indeed, the purpose of the planning system as a whole, and of our proposals for it, is to achieve such a balance."
He said the reforms, which are currently subject to consultation, would maintain protections for the green belt, national parks and areas of outstanding natural beauty.
'Constructive dialogue'
But he added that businesses should be able to expand and said new developments were essential to boost Britain's weak economy.
The National Trust said is welcomed Mr Cameron's "assurances" which "opened the way to constructive dialogue" on the details of the reforms.
Dame Fiona said: "Our primary concern for the planning system is that it should be a neutral framework which balances the needs of society, the environment, as well as the economy.
"It is a great relief to hear from the prime minister that there is no intention to change this over-riding purpose.
"We will now do everything in our power to help shape the National Planning Policy Framework into a robust system which enables the people making the decisions to guide good development to the right places."
She said Planning Minister Greg Clark had invited the trust to work with him, but urged people to continue petitioning.
The trust has said the plans threaten to put short-term economic gain ahead of all other considerations, including the impact on local communities and local green spaces.
The consultation period began on 25 July and ends on 17 October.