Six terror suspects in Birmingham questioned for longer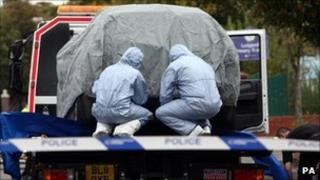 Detectives have been given more time to question six men held in Birmingham as part of an anti-terrorism operation.
They are being held on suspicion of the commission, preparation or instigation of an act of terrorism in the UK.
West Midlands Police now have until around midnight on Sunday to charge or release the men or apply for more time.
The suspects, aged 25 to 32, were arrested on Sunday night and Monday morning as part of a major pre-planned operation involving police and MI5.
On Monday, specialist teams searched their homes along with seven other properties in Birmingham - six domestic and one commercial. Computer equipment was removed and is being examined.
Officers are continuing to search properties in the area and remain at 10 out of the 14 premises that were raided.
The arrests are considered to be the most significant this year, BBC home affairs correspondent Danny Shaw said.
It is understood the investigation relates to suspected Islamist extremism, but it is not thought an attack or threat was imminent.
A 22-year-old woman held on suspicion of failing to disclose information contrary to the Terrorism Act 2000 has been bailed.
Update: An earlier version of this report carried a photograph of a house which, based on information supplied by an agency, was labelled as having been one of those raided by police. The picture has been removed and we are happy to make clear that the property was not directly involved in the police operation.