Ministers discuss £5bn spending boost for economy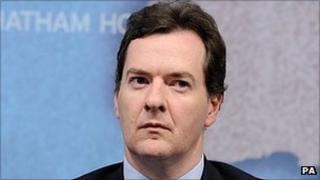 Ministers are discussing how to inject up to £5bn into the economy without abandoning their deficit reduction strategy, the BBC understands.
Some cabinet members believe Chancellor George Osborne could raise capital spending on infrastructure, BBC political editor Nick Robinson says.
The government has faced calls for a "Plan B" on the economy amid flagging growth and rising unemployment.
The Treasury denied it was preparing to change course on the economy.
"The government has set out its spending plans and is sticking to them," said a spokesman.
Early stage
And Lib Dem cabinet ministers moved quickly to distance themselves from the story.
Energy Secretary Chris Huhne said: "I don't recognise that figure at all and I have absolutely no knowledge of that."
Chief Secretary to the Treasury Danny Alexander echoed that statement, telling BBC Radio 4's Today programme: "I just don't recognise, I'm afraid, the numbers involved or the process as it's described."
He added: "We've set out our policies on capital spending. We are going to stick to those policies across the board."
Nick Robinson said he had been told the discussions were at cabinet level but stressed that they were at an early stage.
This comes after the International Monetary Fund said world leaders must take strong action to reduce the risk of a double-dip recession.
'Rock of stability'
The BBC understands a debate is under way at the top of government about what more can be done to boost economic growth without being seen to back away from the coalition's deficit reduction target - which Mr Osborne has called the UK's "rock of stability".
Some ministers believe as much as £5bn in extra capital spending, on top of what was announced in March's Budget, could be channelled towards the nation's roads, rail and broadband internet.
The government has already promised to speed up major public works projects and publish an infrastructure plan by the end of the year - but business groups have urged it to go further.
The government has always rejected Labour's calls for an economic "plan B".
But Nick Robinson said ministers believed the £5bn capital boost would not represent a U-turn since the Treasury's fiscal targets were based around current spending rather than capital expenditure.
The news comes on the eve of Deputy Prime Minister Nick Clegg's leader's speech to the Liberal Democrat autumn conference, expected to be dominated by the worsening economic situation.
'Wake-up call'
Mr Alexander has insisted that the government will not waver from its objective of eliminating the deficit within the lifetime of the Parliament.
"We are straining every sinew to find new things that government can do to support growth, to help private sector businesses to lead the economic recovery," the chief secretary to the Treasury said.
"But of course a key part of that is to retain the credibility that we've built up as a country by sticking to the deficit reduction plan that this coalition put in place when we first came into office."
But Labour has said ministers must heed the IMF's warning.
"Our chancellor and political leaders in Europe need to wake up to the scale of the problem and finally realise that we need economic growth and more people in work to really get deficits down," shadow chancellor Ed Balls said.