Seven held in Birmingham anti-terror operation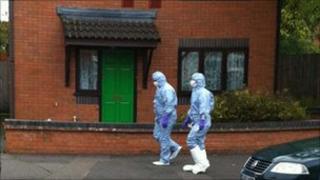 Six men and a woman have been arrested in Birmingham in a large anti-terrorism operation.
The men, aged between 25 and 32, are being held on suspicion of the commission, preparation or instigation of an act of terrorism in the UK.
The woman, 22, is held on suspicion of failing to disclose information contrary to the Terrorism Act 2000.
The arrests are thought to be the most significant this year, BBC home affairs correspondent Danny Shaw said.
It is understood the investigation, which has involved security service MI5, relates to suspected Islamist extremism.
But the arrests are not thought to be related to the Liberal Democrats' conference which is taking place at the city's International Convention Centre.
'Ensure safety'
The men were taken into custody by unarmed officers in the Moseley, Sparkbrook, Sparkhill, Ward End and Balsall Heath areas of Birmingham between 11:30 BST on Sunday and 01:00 BST on Monday, police said. All those detained are from the Birmingham area.
Police said specialist teams were searching their homes and seven other properties in the city - six domestic and one commercial. Computer equipment has already been removed and is being examined.
The men and woman are being questioned at an unnamed police station and can be held for up to 14 days.
West Midlands Police Assistant Chief Constable for security Marcus Beale said: "The operation is in its early stages so we are unable to go into detail at this time about the nature of the suspected offences.
"However, I believe it was necessary to take action at this time in order to ensure public safety.
"The operation has been running for some time and has been subject to regular review.
"As a result of one of those reviews yesterday we decided that the time was right and moved to make six arrests during the night, with a further one a few hours later."
Police added that residents living close to the affected properties had been given notice of the raids and had been "supportive" of the action.
The terrorism threat level in England, Wales and Scotland remains unchanged at "substantial" - meaning that an attack is a "strong possibility".
Our correspondent said the fact the arrests were carried out by unarmed officers suggested there was no imminent threat suspected.