Newspaper review: Welsh miners' deaths dominate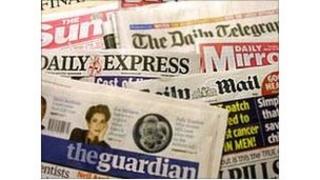 The deaths of four miners in a flooded colliery near Swansea dominate the papers.
The Guardian's Jan Morris says the deaths will have a resonance that will move all who are proud to be Welsh.
Wales has suffered more than its share of these tragedies, says the Daily Express.
The Daily Mirror says that across Britain, people's hearts will go out to the bereaved families.
'Cliff edge'
Several papers consider the crisis in the Eurozone.
The Daily Telegraph believes there has been "an almost total failure of political leadership... the world's major lenders look at Europe and see no one in charge."
The Independent sees politicians "bickering over the trees - while the wood burns around them."
The Times says "Greece is only a few wrong turns away from driving over the cliff edge."
'Slump' in support
As Liberal Democrats gather for the start of their annual conference a host of their senior ministers talk to the papers.
Nick Clegg has been interviewed by the Independent; Chris Huhne by the Times; Vince Cable by the Guardian and Danny Alexander by the Financial Times.
Most are asked to contemplate what the Sun sees as a "slump" in support for their party.
The Daily Mail offers a profile of Nick Clegg as "a deeply troubled man".
Bigheads
The Sun reports that an 17-year-old boy believed to be British had been living in a forest in Berlin for five years.
The boy told the police his father took him "into the wilds" aged 12 after his mother was killed in a car accident.
Meanwhile the Daily Express argues that "bigheads always get ahead at work."
The paper says researchers think they can show that "people with unbiased, accurate perceptions fare less well" than "people with an inflated opinion of themselves."