Catholics asked to abstain from meat for Friday penance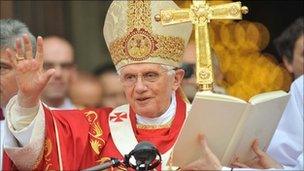 Catholics in England and Wales are being asked to abstain from eating meat on Fridays as an act of penance, reviving a centuries-old tradition.
Bishops say Friday should be a day of penitence as it is the day on which Christ is said to have died.
They say Friday penance will be "a clear and distinctive mark" of Catholic identity and an act of common worship.
A resolution in May said penance would begin on 16 September to mark the first anniversary of the Pope's UK visit.
In a statement issued earlier this month, the bishops said it was important that followers of the Church were united in a common, identifiable act of Friday penance because "the virtue of penitence is best acquired as part of a common resolve and common witness".
Those who cannot or already choose not to eat meat as part of their daily diet are being asked to abstain from some other food or activity.
Those aged under 14, the sick, elderly, pregnant women, seafarers, manual workers or others in situations where there are moral or physical reasons for eating meat are excused from abstaining.
The Catholic Church defines meat as the flesh of warm-blooded animals, so eating fish is permitted on Fridays.
The practice of abstaining from meat on Fridays is centuries-old, but in 1985 the Catholic Church in England and Wales allowed Catholics to substitute another form of penance in its place.
The general secretary of the Bishops' Conference of England and Wales, Father Marcus Stock, said changes to Canon Law in 1983 were seen as an opportunity to look at the requirement to avoid meat on Fridays and see if changing it could be beneficial.
"Because sometimes penance in the past had become mechanistic, many bishops' conferences were wanting to use the opportunity to renew the spirit of penitence," he said.
"I think what hadn't been envisaged at the time was that because people wouldn't be carrying out the same act together that this might lead to the loss of penance in people's lives."
Father Marcus said the act of penance itself was not the end goal, but rather a way of making reparation for past wrongs and identifying with people who were suffering.
"It's about recognising that a wrong was done when our Lord was crucified and killed," he said. "It's linked to almsgiving and concern for the poor and to bring to our minds that we have responsibilities - all of us.
"It's to easy to forget sometimes about those who are suffering. This is a regular way of remembering that people are homeless, people are hungry, people are in need."
Related Internet Links
The BBC is not responsible for the content of external sites.