Report calls for more failing care home protection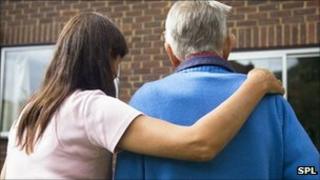 More needs to be done to protect people from failing care services in England, a report says.
The National Audit office warns greater safeguards are needed when a firm runs into financial trouble as happened recently with Southern Cross homes.
It says there are shortcomings in the government reforms to how services are funded.
The Department of Health says it is already considering whether to oversee the £23bn market more closely.
Demand in the care industry is set to grow as people live longer and under the "personal budgets" scheme - started by the last Labour government - local authorities give cash direct to users to choose their own care services.
The government wants everyone eligible for state funded care to be in the scheme by April 2013.
Direct payments to care users are also used in Northern Ireland, Wales and Scotland, where the government is to introduce a bill to increase availability.
'Discussion paper'
The NAO's report Oversight of User Choice and Provider Competition in Care Markets also says the government needs to ensure the care market delivers a genuine choice of services.
The NAO says it found most people who use personal budgets to pay for their social care report improved wellbeing but a small minority said they were worse off.
It adds that some people were finding it difficult to purchase care.
Local authorities are responsible for those who fund their own care if they run out of money but according to the NAO research, few were found to offer formal support to help prevent people falling back on the state.
The NAO said the Department of Health has few means of influencing the way that local authorities deliver care and should consider whether more "central oversight" is necessary.
"The recent financial problems faced by Southern Cross illustrate the need for government to develop a system to address serious provider failure," it added.
Amyas Morse, head of the NAO, said: "As the population ages and more pressure is put on social care, the Department of Health must ensure that its oversight of the care market is robust, that people have access to the information and support that they need and that it has arrangements in place in the event of large providers getting into financial difficulty."
Care services minister Paul Burstow said: "The report's comments on provider failure are a helpful contribution to our wider work on market oversight for social care.
"As outlined in a written ministerial statement last week, the government is considering whether additional measures of market oversight are required. We will shortly be publishing a discussion paper seeking views on this issue."