Forced marriage crime ruled out by ministers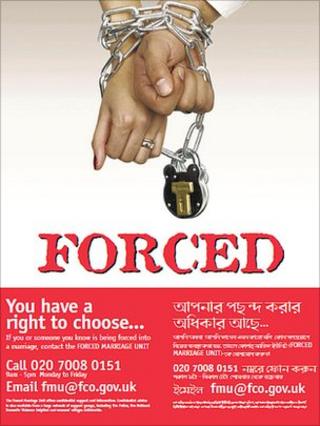 Ministers have ruled out creating a forced marriage crime, despite pressure from MPs to do so.
In an interview for the BBC's Asian Network, Home Office minister Lynne Featherstone said that it was not on the government's agenda.
The Home Affairs committee has called for an offence to complement court orders to protect potential victims.
In opposition, Prime Minister David Cameron said he would consider criminalising forced marriage.
Earlier this year, the Home Affairs committee urged the government to create a new crime, saying that there needed to be a criminal sanction to help prevent people breaching forced marriage protection orders.
The court orders, created in 2007, are the government's key legal tool to protect potential victims.
The injunctions are used to forbid families from actions such as taking people abroad for marriage, seizing passports or intimidating victims.
If someone breaches an order they can be jailed for up to two years.
Almost 300 protection orders have been made since their introduction - but the MPs argued that it was not clear whether the legislation was "wholly effective" in protecting individuals.
"The lack of a criminal sanction also sends a message, and currently that is a weaker message than we believe is needed," the MPs said in their report.
Speaking to the Asian Network, Ms Featherstone said: "In terms of criminalisation, that's not on the government's agenda.
"Yes there have been calls for it from a couple of quarters, but not overall and our judgement at this moment in time that would not be helpful.
"We are much more keen on protection, raising awareness and making sure that everyone who may be subjected to a forced marriage knows that they can be protected.
"It's very important, perhaps the most important thing, to get protection in place for those who may fall victim to forced marriage and that protection cannot be out in place if people don't come forward."
During opposition, David Cameron said a future Conservative government would consider criminalising forced marriage if the current legislation does not work.
But in its its full response to the committee the Home Office said that it disagreed with the MPs that current legislation had been ineffective.
It said that general criminal offences including assault and kidnap covered the actions of people forcing a victim into a forced marriage.
It added that it would also be difficult to prove a specific crime of forced marriage to a criminal standard of proof.
You can hear more on Asian Network Reports on the BBC Asian Network at 1230 BST and 1800 BST Monday to Friday and after on BBC iPlayer.