Immigration cap on skilled workers 'not harming UK'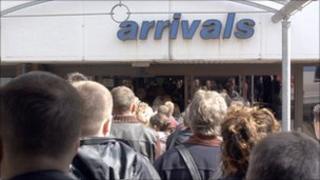 There is "no evidence" the immigration cap on skilled workers is harming the economy, the government's chief immigration adviser has said.
Prof David Metcalf said the numbers coming to the UK from outside the European Economic Area (EEA) was less than half the total allowed.
In the 12 months to June this year 8,900 non-EEA skilled workers came to Britain - the cap is 20,700.
Businesses feared the cap may restrict the recruitment of specialist workers.
'Engineer shortage'
Prof Metcalf, head of the Migration Advisory Committee, has also published a list of 29 job titles which he says can no longer justify recruitment from outside the EEA.
It includes vets, biology teachers, consultants in obstetrics and gynaecology, and orchestral musicians.
The committee recommends that 70,000 jobs in occupations where there is a UK shortage should no longer be open for such migrant workers to apply for. Instead, they could only be filled by UK citizens or workers from the EEA countries.
If approved by ministers, the number of posts covered by the shortage occupation list would be reduced from 260,000 to 190,000.
But the UK still has a shortage of maths, chemistry and physics teachers; engineers; consultants in psychiatry and other medical fields - as well as skilled classical ballet dancers and highly skilled chefs.
Some 33 job titles could be opened to non-EU migrant workers after these shortages were identified.
Prof Metcalf said: "We think it is vital that the government, employers and the training sector take concerted action to raise the skill levels of the UK workforce, especially in long-standing shortage occupation areas.
"This will reduce the UK's reliance on migrant workers in the long term and provide real benefits for the economy as a whole."
The government has said it wants to cut the overall non-EU immigration limit from about 200,000 to "tens of thousands" by 2015.
This will be split into monthly allocations with around 1,500 available each month - a total of 20,700.
The British Chambers of Commerce has said skilled workers are essential for economic growth and ensuring the UK remains competitive.
Non-European Union workers earning more than £150,000 a year are to be excluded from the government's cap.