"A job that's never dull" - Tim Muffett, Breakfast reporter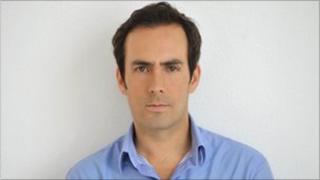 Assessing the impact of Osama Bin Laden's death on the Muslim community one day, the premiere of Harry Potter the next. As a reporter for BBC Breakfast, versatility is key.
"I love the eclectic nature of the job", says Tim. "You dip into people's lives and hear the most fascinating stories. You go to work with a plan, then the Editor wanders over.....'actually Tim, we'd like you to examine the state of the British retail industry/report on the cleanliness of UK rivers/interview Ozzy Osbourne for tomorrow's programme'. Righty-ho, better get going then.
Tim arrived at BBC Breakfast in 2005 having been a general news reporter for the BBC and a correspondent for Sky News. This included 2 years as Sky's Los Angeles Correspondent. In Toronto on September 11th 2001, he was one of the first UK reporters to arrive in New York following the 9/11 terrorist attacks. He stayed for a month reporting on the aftermath.
He filmed and directed a number of documentaries for Sky One and Sky News, including one on the plight of Uganda's mountain gorillas and another on Steps' tour of South Africa. The two issues were unrelated.
Tim studied Medieval and Modern History at Birmingham University, and became one of the UK's first ever multi-skilled Video Journalists at London cable station Channel One.
He joined the BBC in 2002 as a reporter for BBC3s irreverent evening programme Liquid News. He also presented the weekly round-up edition of the programme on BBC News 24 and BBC1, and alongside Lorraine Kelly presented BBC3's Liquid Eurovision programme in 2003, providing live reports and features from Latvia.
Tim recently returned to Los Angeles to cover the Oscars for BBC Breakfast.
He also reports for BBC Radio 5live, Radio 4's Today and has been a studio presenter for the BBC News Channel and BBC World.