Newspaper review: 9/11 attacks legacy examined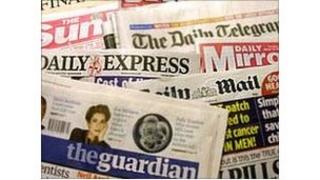 On the eve of the 10th anniversary of the 9/11 attacks, there is a great deal of coverage on their legacy.
"In retrospect," says the Guardian, "9/11 and the bombings in London and Madrid feel like the climax of al-Qaeda's power, not its start".
The Sun makes a similar point, saying: "Osama Bin Laden's poison has failed to ignite the global holy war he craved."
It adds that "we are safer but less free" since "ID checks" and "handbag searches" became the norm after 9/11.
The Daily Telegraph refers to recent events in the Middle East in its look at the legacy of the 9/11 attacks.
It says the so-called Arab Spring seems to show "prosperity and democracy are more pressing concerns among Muslims than Islamist revenge fantasies".
The Daily Mirror points out that despots still spill blood in some Middle Eastern countries and the Israel-Palestine conflict remains unresolved.
"A better world is hard to achieve but it is still possible," it says.
'GP fraud'
Dishonest GPs are defrauding the taxpayer of millions of pounds by claiming money for "ghost patients", according to the Daily Mail.
It alleges some doctors continue to claim for patients who have died or left the country.
The Independent quotes an academic who accuses David Cameron of creating a "liquorice allsorts" education system.
Prof Alan Smithers says the different school types is confusing and standards need to rise in all state schools.
Foreign Secretary William Hague tells the Times that the UK may benefit from loosening ties with the European Union.
Meanwhile, the Financial Times says US businesses are "split" over President Obama's stimulus plan.
The FT features a photograph of a New Zealand player on its front page following the nation's defeat of Tonga at the start of rugby's World Cup.
The Times front page has an image of a Maori chief at the opening ceremony of the tournament, in Auckland.