Prison population in England and Wales hits new high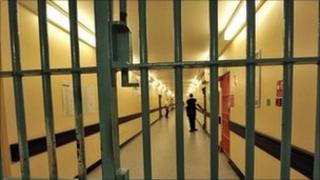 The prison population in England and Wales has reached a record of 86,842, the Ministry of Justice has said.
The data shows inmate numbers are just higher than the previous record of 86,821 set two weeks ago.
Numbers were said to have been boosted in the wake of arrests after the riots in England last month.
The usable capacity of prisons is 88,628 and ministers said there would be enough places for held as a result of the violence and looting.
Recent MoJ figures show nearly 1,700 people have now appeared in court over the rioting. More than half of them have been remanded in custody, compared with an average of one in 10 of those who were charged with serious offences in 2010.
When it came to sentencing, 46% of those involved in the riots received a custodial term, compared to 12.3% rate in 2010.
The government aims to cut costs by reducing the prison population through the introduction of the more robust community sentences for some offenders and improvements in the rehabilitation of offenders.
It has said that the new high would not necessarily change long-term estimates of the prison population - the total number in jails, young offender institutions and immigration removal centres - which it envisages will fall back to the 83,000-level in 2012.