Our Rivers campaign reveals 'blacklist'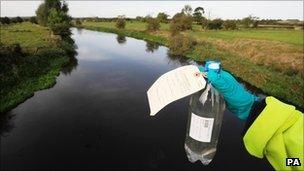 Wildlife campaigners have published a list of 10 rivers in England and Wales where they say environmental problems have not been tackled properly.
The Our Rivers group released the list, which includes the Thames and Trent, after the Environment Agency last week named the top 10 most-improved rivers.
They say pollution, over-abstraction of water and invasive species are threatening hundreds more waterways.
The agency said a multi-billion pound improvement programme was under way.
The Our Rivers campaign said whilst it was right to celebrate improvements, an ongoing threat to wildlife could not be ignored.
The group, which includes the RSPB, WWF-UK, the Angling Trust and the Salmon and Trout Association, said two-thirds of rivers were failing tough EU targets for water quality.
"Most of the 10 rivers highlighted in the Environment Agency's report last week are doing well, but it is a different story for many hundreds of other rivers crossing England and Wales," said campaigner Jack Clarke.
"The stories we hear from people living near these rivers are all too familiar - salmon and trout numbers at a fraction of their former levels, sewage being released directly into the waterway, and riverbeds drying up in the summer due to unsustainable abstraction.
"The 10 rivers we have chosen illustrate these problems, but they are only examples of a much wider issue."
The Our Rivers list named the Thames, despite it appearing on the Environment Agency's list of most improved waterways.
Campaigners acknowledged that water quality had improved in the Thames, but said attempts to create a self-sustaining salmon population had failed.
The other rivers in the list of 10 waterways were: the Hampshire Avon; the Rea, in Birmingham; the Trent, the Kennet, the Beane, the Mimram, the Ivel, the Wye and the Ray.
An Environment Agency spokesperson said: "Rivers in England and Wales have improved dramatically, but there's still a lot to do.
"An ambitious multi-billion pound programme is under way to ensure improvement continues."
Last week, the agency named the top 10 rivers that had shrugged off their industrial past to become havens for wildlife and walkers again.
The agency's list included the River Wandle in London which was officially declared a sewer in the 1960s and the River Nar in Norfolk.
Also included were the Wear in Co Durham, Stour in Worcestershire, Darent in Kent, Dee in Wales and north-west England, Taff in south Wales, Stour in Dorset, and Mersey Basin in north-west England.
Ian Barker, head of land and water at the agency, said Britain's rivers were "the healthiest for over 20 years".
Related Internet Links
The BBC is not responsible for the content of external sites.