Rape crime figure differences revealed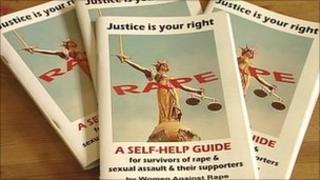 New figures show wide disparities in the way that police forces in England and Wales record allegations of rape.
Data supplied to BBC News shows the proportion of rapes dismissed by the police as "no crime" varies between 2% and 30%.
Overall, the number of reports of rape classed as "no crime" has decreased.
The figures given to the BBC come four years after a watchdog warned that recorded crime figures for rape were skewed.
In its report, the Crown Prosecution Service Inspectorate warned that some reports of rape were being wrongly classified by police forces. In turn, there was a danger that these mistakes inflated perceptions of false allegations.
At the time, police in England and Wales classified almost 16% of reports of rapes as "no crime". That figure has now fallen to under 12% - but data supplied by the Association of Chief Police Officers shows that the average hides wide variations.
While Gloucestershire Police recorded 2.4% of rapes as "no crime", the figure for Kent was 30%, three times the rate in 2009. Surrey Police's "no crime" figure was over 20%.
'Figures insulting'
In a statement, Kent Police said the jump in its statistics came after a recent review of open cases.
[268kb]
Police rape statistics in full
"As a result of this review, detailed enquiries carried out by officers resulted in some reports of rape being categorised as a 'no crime'. This resulted in above average 'no crimes' for the period April 2010 - March 2011.
"Periodic reviews of crime reports are an important part of maintaining the highest standards of investigation practices, and allow officers to review lines of inquiry thereby ensuring victims of sexual offences are supported effectively throughout the investigation and prosecution processes."
Surrey Police said: "In accordance with the Home Office counting rules, we may 'no crime' records if, and only if, there is additional verifiable information to satisfy the force crime registrar that there is no substantive rape.
"We continue to undertake this victim-focused approach and have worked with partner agencies such as the NHS to assist in the introduction of the Surrey sexual assault referral centre to provide victims with appropriate support."
But Lisa Longstaff, of Women against Rape, said the figures were insulting to victims.
"The whole practice of 'no criming' does send out a terrible message and the higher the no crime figure is in each area, the worse the message it sends out," she said.
Sanction detections
The figures also revealed variations in "sanction detections" - the police accounting term for cases where a suspect has been charged or cautioned.
For two years, the figures for Lincolnshire Police have been below 13%. In contrast, Durham consistently achieved sanction detection rates three times higher.
Detective Inspector Sean Baxter of Lincolnshire Police said that sanction detections had risen since April 2011 and that they had also just launched the "Emerald Team", a dedicated rape investigations unit.
"The Emerald Team is made up of experienced hand-picked detectives and specially trained officers concerned solely with the investigation of rape offences from the cradle to the grave," he said.
"We expect a significant impact as a result of this new team that is working closely with the Crown prosecution team to enhance the investigation and prosecution of offenders in these emotive crimes."
In her review last year of how rape cases are handled, Baroness Vivien Stern criticised the repeated use of a figure suggesting that only 6% of rapes lead to convictions. Statistics show that a majority of rape prosecutions result in a conviction.
David Gee, a former advisor to the Home Office, said there was "such flexibility" in the crime recording rules that forces interpret them differently.
"But we need to look at not only the way it is recorded, but also the way so-called performance in this area is measured.
"This pre-determines police attitudes to allegations at the outset. If they know they are going to be criticised for recording a crime in good faith that is later not prosecuted, then there is a mind-set... there is no incentive to record."