London 2012: Paralympic sports inspire capital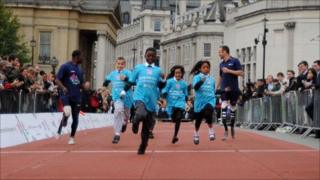 The day before tickets for the 2012 Paralympic Games go on sale, London hosted International Paralympic Day, to showcase the competition's sports.
"Paralympic sport is not just inspiring. It is hardcore. It's disappointment, it's triumph, it's hard work and it's dedication and that's really exciting."
So says South African sprinter Oscar Pistorius, standing in London's Trafalgar Square. He is one of the dozens of paralympic athletes rowing and throwing, sprinting and hitting a ball here, a year out from the Games.
He is more famous for his battle to compete in able-bodied competition and success at the World Championships in Daegu. But he plans to compete in the Paralympic 100, 200, 400 and 4x100m events and is here to extol his love of the Games. This is serious sport, with winners and losers.
It may not be "just inspiring", but it is inspiring. Inspiration being one of the Paralympic Games' values, along with courage, determination, and equality; and a large crowd has gathered in front of the National Gallery to watch athletes sprint on their blades along a short track.
"We're here to see Oscar," beam twins Emma and Bea Searle, GB and Wales university team rowing coxes from Wimbledon. "He's a real role model."
Pistorius is in London fresh from his ground-breaking appearance in Daegu and he sprints down the track with a gaggle of school children, letting them cross the line first.
"I think you won that. High five," he gestures to the victor. "Quick," he says, "let's run back as fast as we came down here".
The events taking place all day here mark the first International Paralympic Day held outside Germany and in an Olympic and Paralympic host country ahead of the Games.
Many of the 20 paralympic sports, including wheelchair basketball, tennis and table tennis, are being played in the square with passion and varying amounts of contact. The word among athletes is that the wheelchair rugby, so intense it was originally known as "murderball", is one to watch out for.
This is a warm-up for the public, just under a year out from the start of a Games which will see 4,200 paralympians compete across 20 sports .
"We're making history here today," says Tyler Saunders, a London 2012 wheelchair basketball hopeful, who wants to "urge people to relish" paralympic competition.
He says the day is also a chance to educate the next generation about his sport and the competitors - the square is full of children whose parents and teachers have brought them along to watch.
He acknowledges a slight tension around the Paralympics, that people fear saying or asking the wrong thing. This sensitivity was highlighted when International Paralympic Committee head Sir Philip Craven said he wanted to do away with the word "disabled ".
"It's great to have the kids here," says Tyler. "It raises awareness and raises the profile and they say it like it is. One said, 'Where's your leg?' and I tell them."
Indeed, children are hunting athletes' autographs and trying out their equipment. "Now give that man back his wheelchair," one teacher tells an enthused pupil.
Another, an Irish paralympic rower, thrilled at having just qualified for the 2012 Games, has brought her class of visually impaired and multi-disabled children to experience the sports in action.
Parents in the crowd say they are here not just for the sport but the stories behind it, that they find the paralympics "life-affirming" and "truer to the original purpose of sport, that ultimately it's for fun and how to deal with winning and losing graciously".
The message from London Olympic and Paralympic organisers Locog, is more that this is about competitive sport, that, as Lord Coe puts it: "ninety eight per cent of the population could not get within a country mile" of what athletes here can do.
Throughout the square, dedicated athletes, under pressure to qualify, are at the top of their game albeit with some fascinating bits of kit that marry to the competitor.
Tickets go on sale on Friday, under the same system used for Olympic tickets , and Lord Coe is confident they will sell out.
If they do, it will be a first for the Paralympics. One million people signalled their interest when they registered for Olympic tickets and 1.5m seats are available.
"I want to see full stadia, I want people in there who look like they want to be there," he says.
"We will have a group ticket that will be available so that schools will be able to go there and it's in term time.
"We are also going to make sure that we've got the ability to showcase a lot of these sports in the lead-up. That's why paralympic day is important."
Paralympic stars are here, past and present. Wheelchair medal-winners David Weir and Tanni Grey-Thompson, swimmer Eleanor Simmonds. But also the grass roots athletes.
Although wheelchair tennis players like John Parfitt can take time for a quick knock-about with Prime Minister David Cameron and London Mayor Boris Johnson, day-to-day, they are on the same stressful path to qualification as their Olympic counterparts.
One important step on that path is the official invitation, issued to athletes from this square on Thursday evening, to attend the Games in 2012.