London 2012 Paralympic tickets go on sale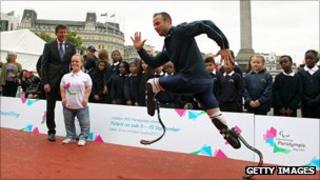 Tickets for the London 2012 Paralympics have gone on sale, with people given just over a fortnight to apply.
The 1.5 million first-phase tickets are available on the Games' tickets website until 1800 BST on 26 September, for those in the EU.
Police have warned people to watch out for fake tickets and illegal sales.
More than 4,200 athletes, with a variety of disabilities, from 150 nations will take part in the Games from 29 August to 9 September 2012 .
Organisers say there is no advantage to applying early in the process as the system is not first-come-first-served.
Three-quarters of the two million total tickets available before the Games are priced at £20 or under, and half at £10 or under.
Payment will be taken by 31 October, and applicants will find out if they have been successful by 18 November.
Unlike the Olympic Games, spectators can choose a day pass which entitles them to watch any sport at the Olympic Park or Excel venue that day, apart from athletics, cycling, swimming and some medal events.
But, like the Olympic Games ticket system, over-subscribed events will go to a ballot for tickets.
There are 312 sessions covering 20 sports and 20 venues, and the price of tickets for the ceremonies range from £20.12 to £500.
London 2012 chairman Sebastian Coe said: "People will have the chance to see sport like never before, with world class athletes who challenge the notion of 'disability'.
"It's a huge opportunity for Paralympic sport to become part of the nation's consciousness and finally, it will be a moment of extraordinary pride."
Culture Secretary Jeremy Hunt added: "Britain is the home of the Paralympic Games and for most of us 2012 will be the only time we have the opportunity to watch it on home soil.
"So I urge everyone to apply for tickets and make the most of this fantastic sporting event."
On Thursday, David Cameron was among the high-profile visitors to Trafalgar Square on International Paralympic Day.
The prime minister and London Mayor Boris Johnson each partnered a wheelchair tennis player as they tried out the sport in front of an enthusiastic crowd.
The Paralympic movement began in the UK when injured servicemen took part in sporting contests at Stoke Mandeville Hospital during the 1948 Olympics in London.
The sale of tickets for the London 2012 Olympic Games has closed.