Archbishop of Canterbury seeks Robert Mugabe meeting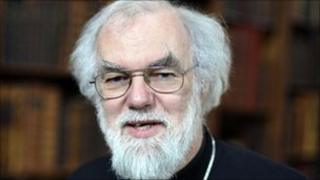 The Archbishop of Canterbury has requested a meeting with President Robert Mugabe amid reports of violence between rival factions of Anglicans in Zimbabwe.
Dr Rowan Williams is visiting Malawi, Zimbabwe and Zambia in October.
His spokeswoman said the "pastoral visit" was to "show solidarity" with Anglicans in the region.
The Foreign Office said as head of the church, Dr Williams' "desire to support them was understandable".
Dr Williams will become the first prominent British representative to visit Harare, the capital of Zimbabwe, in a decade.
The country's violent regime has previously come under criticism from the Church.
In 2007, the Archbishop of York, Dr John Sentamu, cut up his clerical dog collar in protest at President Mugabe's regime, saying he would not wear it again until the president had left office.
'Pastoral'
Dr Williams' spokeswoman said: "[Dr Williams] will meet with bishops, clergy, and is going to be looking at church development initiatives in all three countries.
"The aim of the trip as a whole is a pastoral visit and it's to show solidarity with Anglicans there, that's really the aim of the trip."
She added that Lambeth Palace had not received a response for the meeting request.
The Foreign Office said: "The archbishop's visit is in a pastoral capacity as the head of the Anglican Church - he is not a representative of the government.
"The situation of Anglicans in Zimbabwe has worsened in recent months and as head of the church, his desire to support them is understandable."
Ever since the Anglican Communion split in Zimbabwe in 2007, there have been violent clashes between worshippers loyal to Bishop Nolbert Kunonga - a staunch supporter of President Robert Mugabe - and his rival Dr Chad Gandiya.
The Church of the Province of Central Africa (CPCA) sacked Bishop Kunonga in 2007 after he resisted pressure from the Anglican leadership to criticise Zimbabwe's government.
Violence
But he refused to step down and created a breakaway church - and has been accused of using young thugs allied to Mr Mugabe's ruling Zanu-PF party to attack the rival faction.
Reports of priests allegedly being beaten and arrested by police and property being seized have increased over recent months.
In August, the country's Chief Justice ruled that all Anglican property in the Harare diocese was under Mr Kunonga's custody.
Dr Chad Gandiya, the Bishop of Harare, told the Times newspaper he hoped Dr Williams' would bring respite to the Zimbabwean Church.
Referring to Dr Williams' visit, he said: "He is visiting the province. He is going to Malawi and from there he is coming to Zimbabwe. It is a pastoral visit, it is not a political visit.
"He is not coming to tell Kunonga off because that is not his business. He is coming to encourage Zimbabwean Anglicans in their faith."
The last official visit by a UK representative to Zimbabwe was by Baroness Amos in 2001.