Phone hacking: Police bail sports writer Raoul Simons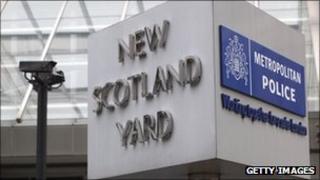 A 35-year-old man held by officers probing phone hacking at the News of the World has been bailed, police say.
The BBC understands he is sports journalist Raoul Simons who used to work at London's Evening Standard before moving to the Times in 2009.
The man was bailed on suspicion of conspiracy to intercept voicemails.
Meanwhile, Guardian reporter Amelia Hill has been questioned under caution over alleged police leaks surrounding the hacking inquiry, the paper said.
It followed the arrest of a Met Police detective constable last month who worked in the Operation Weeting team.
Scotland Yard says the "investigation continues" and they are not giving a "running commentary" on events.
Mr Simons was appointed deputy football editor at the Times in August 2009, having previously worked at the Evening Standard.
In September 2010, he went on extended leave after material allegedly linking him to phone hacking emerged.
He is still on the payroll but has not returned to work since. It is understood he has not been involved in any inappropriate behaviour while at the Times.
The man has been bailed by police to a date in October pending further inquiries.
A total of 16 people have now been arrested on suspicion of phone hacking - 15 of whom are still under investigation - since Operation Weeting was launched in January.
Scotland Yard's fresh investigation was set up to examine the illegal interception of voicemails.
Former News International chief executive Rebekah Brooks and ex-Downing Street communications chief Andy Coulson are among those who have already been arrested as part of the inquiry.
The scandal has led Met Police Commissioner Sir Paul Stephenson and Assistant Commissioner John Yates to resign, and the News of the World to close down after 168 years.