Middleton family photos removed from newspaper websites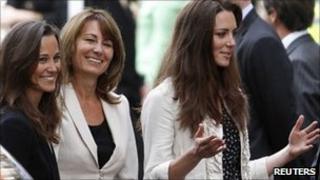 Photos of the Middleton family taken five years ago have been removed from newspaper websites after they complained about a breach of privacy.
The Daily Mail, Mail on Sunday and Daily Mirror agreed to remove images of Catherine, Pippa and James on a boat after the family complained to the Press Complaints Commission.
The family said they had an expectation of privacy, and had been followed.
The papers disagreed but removed the images anyway.
The Middleton family complained to the PCC this year after photographs were published in 2006 of Kate, now the Duchess of Cambridge, and her younger sister Pippa in bikinis.
The five-year-old snaps of the sisters with their mother, Carole, showed them swimming, diving and relaxing on and around a yacht off Ibiza.
Boat 'followed'
The complaint said the photos were "taken five years previously, in a place where they had a reasonable expectation of privacy."
The complainants' solicitors also alleged the photographs had been obtained after the boat had been followed.
The three newspapers said that photos had been published on numerous occasions since 2006 without complaint.
They also said the boat had not been followed, arguing that the Middletons did not have a reasonable expectation of privacy at the location where the boat was.
"Nonetheless, the complaint was resolved when the newspaper removed the photographs from its website and agreed not to republish them," the PCC resolution said.
A similar complaint against the now-defunct News of the World newspaper has yet to be dealt with.
One photograph in the News of the World showed Pippa removing her bikini top under the headline "Oh buoy it's Pippa". They have since been removed from the paper's website.
Many of the photographs were published before but were more in demand given Kate's marriage to Prince William and her new royal status.