Televised sentencing in English courts 'considered'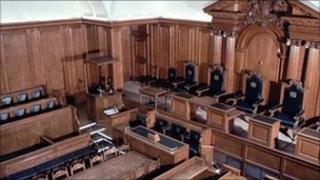 The government is considering whether to allow some sentencing in English and Welsh courts to be televised.
A government spokesman said it was considering proposals to allow limited recording and transmission from courts.
Justice Secretary Kenneth Clarke said televising judges' comments was a good idea which would help demystify the legal process.
Critics have said prisoners could be at risk if personal information and previous convictions were revealed.
Under the proposals, the trials themselves and the verdicts delivered by the jury would not be filmed.
BBC political correspondent Iain Watson said sources at both Downing Street and the Ministry of Justice had confirmed the government was "seriously considering" the plans in the interests of greater transparency.
He said an announcement would be made in due course however sources had denied reports that the announcement would be made by the prime minister in a forthcoming speech on crime.
Mr Clarke said said there was "no good reason" why televising courts could not happen.
But he added that he favoured proceeding cautiously, starting with the Court of Appeal and including the Crown Courts later.
He said: "I think what we need is public information, public confidence and above all transparency in the way the system works.
"There's a lot of misunderstanding on how the criminal justice system works. What we don't want is theatre and we don't want to alter the behaviour or the conduct of the trial. We want to encourage people to have confidence in it.
"But, I can see no good reason why we shouldn't have television cameras allowed to record and give to the public the remarks of the judge."
A Ministry of Justice spokesman said the Lord Chancellor was consulting with senior judges on the proposals after renewed calls from broadcasters for filming to be allowed.
'Very cruel'
BBC News legal correspondent Clive Coleman said the director of public prosecutions, many judges and some lawyers were cautiously enthusiastic; however, some had argued that not seeing the trials themselves would hamper viewers' understanding of sentencing.
Shadow Justice Secretary Sadiq Khan said: "I believe that public understanding of and confidence in our legal system would improve if judges' verdicts were televised.
"However, it will be extremely important to ensure that careful controls are in place to protect jurors, victims and witnesses, particularly in complex and high-profile cases."
In March, the top civil judge in England and Wales suggested televising hearings to increase confidence in justice.
Master of the Rolls Lord Neuberger said broadcasting some cases could boost public engagement in the court process.
Filming ban
But Julian Young, a solicitor advocate - a solicitor qualified to represent clients in the higher courts - said prisoners could be put at risk if all the judge's remarks, including personal information and previous convictions, were televised.
"The general prison population can be very cruel towards other prisoners they may see as being weak," he said.
Mr Young said there could be difficulties in that the public would not be hearing what the prosecutor or defence lawyer had said.
He told BBC News that problems could arise if, for example, "the public gallery decided to erupt" half way through the judge's speech or if people misbehaved in court in order to gain publicity.
"There are all sorts of dangers which have to be carefully examined and a balance obtained, and that balance is not an easy one because all you're concentrating on is the judge," he added.
Filming in English courts has been banned since 1925. Cameras have been allowed in Scotland's courts since 1992 but only if all parties involved have given their consent.
Acquittal concerns
This is not the first time such plans have been considered. In 2000 there were reports that a committee headed by the Lord Chancellor, Lord Irvine of Lairg, was looking at something similar. But the then government denied this was the case.
Peter Lodder QC, chairman of the Bar Council, told the Today programme that there has been "mounting pressure for what is described as transparency, but which is really simply a wider communication of the way courts operate.
"And I don't think in the vast majority of cases, and with some care, that that's necessarily a bad thing."
But Charles Harris, last year's president of the Council of Circuit Judges, also told Today: "A trial is actually an entity of various parts, and you can't legitimately split it up into bits and pieces.
"What about a defendant who doesn't agree to [filming], is sentenced in the full light of publicity and then appeals and is acquitted?"