Abnormal UK weather boosts autumn crops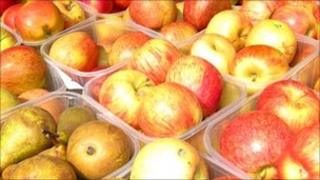 The hot spring and cool summer conditions appear to have brought early and bumper autumn crops.
There is a plentiful supply of fruits, seeds and berries and many trees are already showing their autumn colours, the National Trust said.
The conditions follow a record-breaking dry spring, a drought in parts of east and southern England, and a rainy and cloudy summer.
As a consequence, orchards are said to be bursting with apples and pears.
"They flowered and pollinated well and then they got some rain for swelling," NT conservation adviser Matthew Oates said.
"If the drought had gone on they wouldn't have swelled, and the trees would have dropped their fruit."
But a good blackberry crop is said to be hanging in the balance and dependent on a warm sunny September as the brambles flowered in July during the poor weather.
Meanwhile, the leaves on trees such as hawthorns, field maples and beeches have already turned gold.
Giving up
April this year was the UK's warmest on record and an ensuing dry spell saw drought worries affect East Anglia, the Midlands and the South East.
But July's rainfall turned out to be higher than average, and the Met Office has said figures indicate the June to August period was the coolest since 1993.
The temperature during August has been below normal by about one degree Celsius in most parts of the UK and overall the country received 126% of the normal monthly rainfall.
Mr Oates said the hot dry spring led to drought conditions, and combined with a cold and cloudy summer, would have encouraged many trees to "just give up".
But he said spring-flowering trees and shrubs benefited from the hot, sunny spring which boosted blossoming and pollination by insects.
The plants responded to the rainy summer, allowing berries to ripen, with hawthorns, blackthorns, elders and holly and beech trees all producing prolific crops.
However, later-flowering trees such as the ash and sycamore, which were hit by the cool and cloudy summer, have not had such a good season.
And some areas have been hit by the leaf miner moth, with the leaves of horse chestnut trees already brown.
As a consequence, parts of the landscape look more like November than September, said Mr Oates.