Off-licence 'link' to underage drink hospital cases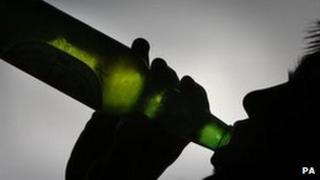 The number of off-licence premises in an area is statistically linked to the number of underage drinkers admitted to hospital for alcohol-related problems, a study suggests.
The research for campaign group Alcohol Concern relates to 2006 to 2009 and is for England, excluding London.
On average for every two stores per 100,000 of population selling drink, one under 18-year-old sought treatment.
The report says the government may need to control off-licence numbers.
It also argues authorities must be given powers under the Licensing Act to refuse applications on the grounds of local health considerations and calls for improved analysis of alcohol-related hospital admissions.
The report says: "Effective harm prevention therefore not only requires targeting education, information and support at an individual level among young people but control of the concentration of alcohol outlets at a community level."
Government strategy
The data, analysed by Dr Nikki Coghill at University of West of England, is based on the 214 out of 293 local authorities that published relevant information. Alcohol Concern said the findings were "sufficiently robust to draw strong conclusions".
The findings suggest that nearly 10% of the 19,367 alcohol-specific hospital admissions for under-18s were directly attributable to the concentration of off-licence premises in a local area.
Alcohol Concern chief executive Don Shenker said: "It is a sobering thought that the numbers of off-licences in any one area has an impact on under-18s drinking and ending up in hospital.
"It is a failing of the current system that so many licences are being granted without due consideration to young people's health."
Professor Sir Ian Gilmore, chair of the Alcohol Health Alliance UK, said: "This research further underlines the need for a comprehensive alcohol strategy from the government, which tackles the affordability, promotion and the availability of alcohol."
The Department of Health, which is due to publish a new alcohol strategy later in the year, said it had already taken action to tackle problem drinking and was working to introduce a tougher licensing regime.