Domestic workers demonstrate over UK visa changes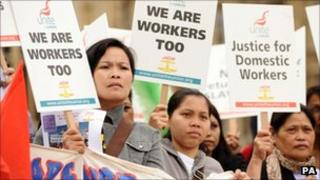 Hundreds of migrant domestic workers have demonstrated outside Parliament against proposed changes to their UK visa conditions.
Current rules allow them to change jobs and move to a different household without losing their immigrant status.
The Justice 4 Domestic Workers campaign says plans to end the right will leave staff open to abuse or exploitation.
The Home Office says no changes will be made to the current system until a consultation has ended.
The proposed change is part of the government's pledge to cut net migration to tens of thousands by 2015.
In its consultation document, the UK Border agency says: "While we are restricting skilled work it would arguably be counter-intuitive to retain a route into the UK labour market for low skilled domestic workers via the private household route."
Migrant workers entering the UK on Overseas Domestic Worker visas include chauffeurs, gardeners, cooks and nannies.
Justice 4 Domestic Workers, which represents 500 members from countries including the Philippines, Indonesia, India, Sri Lanka, Morocco and Nigeria, also has the support of the union Unite and the charity Kalayaan.
Settlement routes
Kalayaan, which offers domestic staff advice and support, said the existing visa provided "a vitally important safeguard for some of the most vulnerable and isolated workers".
Jenny Moss, community advocate at Kalayaan, said: "Removing the vital protections associated with the domestic worker visa will undoubtedly lead to an increase in abuse, exploitation and human trafficking."
She added that the plans would not "significantly contribute" to the government's objective of lowering net migration.
Marissa Begonia, from Justice 4 Domestic Workers, told the BBC: "The right to change employer is very important to us... it saves lives, especially for those domestic workers who are being sexually abused, who have been beaten, who have been asked to work for 24 hours....
"That is not work, that is slavery."
A Home Office spokesman said: "This government is determined to get immigration down to sustainable levels.
"We are reviewing all work routes which can lead to settlement and it is right that we include the overseas domestic worker route as part of this.
"In addition, the government believes it is reasonable to expect an employer to recruit at this level within the UK."