Newspaper review: Focus on justice system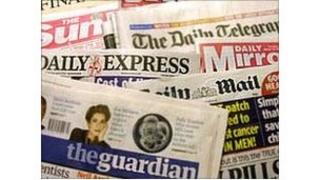 A number of different stories about the justice system grab the attention of Saturday's newspapers.
The Daily Mirror is concerned that courts are not being tough enough. It highlights figures showing that nearly 200 crimes a day are carried out by suspects on bail, awaiting trial.
The Guardian says police who carried out the raid in Surrey in which reggae singer Smiley Culture allegedly stabbed himself to death are unlikely to face charges, disciplinary action or be officially questioned.
Riot sentences
The Daily Mail highlights a case in which the former prime minister's wife Cherie Blair gave a cocaine smuggler a suspended sentence, while sitting as a Crown Court judge.
The paper says three Appeal Court judges expressed astonishment at her unduly lenient sentence and jailed Lee Williams for three-and-a-half years.
The Daily Telegraph, meanwhile, has an interview with the Director of Public Prosecutions in which he suggests that some sentences related to last month's riots have been too tough.
Growing revolt
The Sun,Daily Mirror and Guardian all carry pictures of Rebecca Leighton, the nurse arrested over unexplained deaths in Stockport on their front pages.
The 27-year-old was freed from prison, where she had been on remand, after all charges against her were dropped.
The Times says ministers are prepared to make concessions to head off a growing revolt over planning rules.
Planning minister Greg Clark tells the paper that he is prepared to sit down and discuss amendments to the proposals.
Only euros
The Independent says the founder of Wikileaks Julian Assange is at the centre of another political storm after publishing a quarter of a million US diplomatic cables, in their entirety.
According to the Guardian, the campaign to toughen abortion laws by stripping abortion providers of their counselling role was losing momentum as Tory MPs started to back a rival amendment.
Finally, the Daily Express says outrage erupted after Eurostar banned the pound in favour of the euro in its snack bar. The firm later abandoned the plan.