Councils told to drop personal questionnaires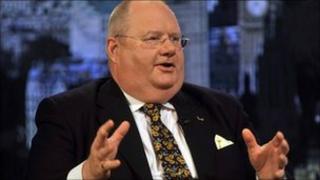 The government is telling councils to stop asking questions about people's sexuality, race and health in surveys.
Communities Secretary Eric Pickles is issuing guidelines for councils about asking for personal information.
These remove the requirement for local authorities to conduct "intrusive lifestyle and diversity" surveys.
The move follows a series of high-profile cases where councils demanded personal information from individuals who signed up for services.
These included libraries in Islington, north London, asking people registering to borrow books if they had cancer, HIV, or diabetes and whether they were transgender.
The Department for Communities and Local Government said that its one-page statutory guidance replaces "the 56 pages of John Prescott's so-called 'Best Value' guidance".
'Balancing act'
It also said that it "unambiguously" states there is no requirement for councils to undertake personal lifestyle and diversity questionnaires of residents or firms who are their suppliers.
Mr Pickles said: "At a time when taxpayers are watching their pennies, the last thing councils should be doing is sending out unnecessary and intrusive questionnaires.
"Local residents shouldn't be asked to reveal detailed personal information just because they've enquired about getting their bins emptied or how to join their local library.
"Clamping down on such town hall activity will save taxpayers' money and protect the privacy of residents of all backgrounds."
An Equality and Human Rights Commission spokeswoman said: "Collecting personal information allows councils to target services where they are needed most.
"However, there is a balancing act to be done between the need to protect a person's privacy and the need for councils to collect this information."