How did Libyan money come to be printed in Britain?
By Chris Summers
BBC News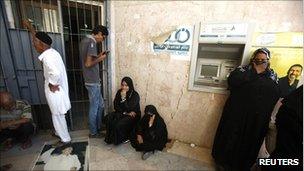 The RAF has delivered £140m worth of Libyan banknotes back to the country after the downfall of Colonel Muammar Gaddafi. But why is so much foreign currency printed in the UK?
It is perhaps unsurprising that De La Rue, the British firm which printed the 280 million Libyan dinars (£140m) returned this week, is somewhat reticent about its business.
The banknotes were ordered by the Gaddafi regime a year ago but were seized following the imposition of sanctions by the United Nations.
When the rebels reached Tripoli and overthrew the Libyan leader, the UN agreed to lift sanctions and unfreeze some of the $20bn of assets the Libyan government had in the UK.
A total of 1.86 billion dinars (£929m) would be returned. Foreign Secretary William Hague said: "The bank notes will be used to pay the wages of Libyan public sector employees, including nurses, doctors, teachers and police officers."
The cash will also be used to restock depleted cash machines across Libya.
Pira International, a world authority on the print industry, said the global banknote trade was enormous.
A total of 150 billion banknotes were printed last year, which is likely to rise to 162 billion this year and carry on rising, partially driven by increasing demand for cash in booming China.
Pira's chief consultant on print security, Michael Chamberlain, said 84% of the world's banknotes were printed by state-owned enterprises - but the remaining 16% included 76% of the world's currencies.
Many countries, including Britain, the United States, Russia and China, will not allow their notes to be printed abroad.
The US dollar is printed at two federal government-owned sites, in Washington DC and Fort Worth, Texas.
But many smaller countries approach De La Rue or its main rival, Giesecke & Devrient.
The German firm's customers include Japan, Cambodia, Croatia and Guatemala.
But De La Rue, based in Basingstoke, Hampshire, produces 150 foreign currencies as well as passports, driving licences and identity cards for several nations.
De La Rue was founded in Guernsey in 1813 by Thomas De La Rue, originally printing newspapers and later postage stamps before turning to paper money.
It began printing money for foreign countries in 1930, when Chiang Kai-Shek's Chinese nationalist government put in an order.
Since 2003 it has also been producing Bank of England banknotes, from a printing plant in Debden, Essex.
But the company refuses to give details of its overseas customers and a spokeswoman told the BBC: "We are bound by confidentiality with our customers and we have to respect their wishes not to have publicity."
There is no international body for the regulation of currency issue, which means there is nothing to stop companies printing money for "rogue states" like Syria or North Korea, or "emerging" states like Somaliland or Western Sahara which are not universally recognised.
Mr Chamberlain said: "These states don't have difficulty getting their money printed. The Chinese might do it, or the Russians."
De La Rue is fairly tight-lipped about their operations but it does admit to having plants in Loughton, Essex; Gateshead, Tyneside; and Bathford, Somerset.
It uses security threads and holography as well as special security paper to defeat the counterfeiters.
Some countries are happy to admit their banknotes are printed by De La Rue.
One of them is Samoa in the South Pacific.
De La Rue printed tens of thousands of notes for the Central Bank of Samoa, which introduced its new currency in 2008.
Leasi Papali'i Tommy Scanlan, who stepped down recently as the bank's governor, recently told De La Rue's company magazine: "Counterfeiting was one of the biggest problems we faced with our previous banknote issue.
"This is one of the main reasons we decided to issue a new series of banknotes, incorporating the latest security feature."
Counterfeiting is a lot harder nowadays.
In the 1940s Adolf Hitler used a group of concentration camp inmates to create fake sterling banknotes in an attempt to destabilise Britain's economy.
There have also been allegations that North Korea has been printing fake US dollars, although the dollar is much harder to counterfeit than it was 10 years ago.
Technology has moved on a great deal in the last 70 years and De La Rue has cornered the market.
It also makes electronic identity cards for Rwanda and passports for Malta, Qatar and the Bahamas.
Another banknote customer is Saudi Arabia, which uses the face of King Abdullah Bin-Abd-al-Aziz Al Saud on all denominations except the 500 riyal.
The Saudi king and Queen Elizabeth II are not the only heads of state to be used on banknotes, but it can be a problem when there is a regime change.
For the next couple of years Libyans will just have to put up with carrying around notes bearing the likeness of their fallen leader, just like Iraqis did with Saddam Hussein.
Mr Chamberlain said: "They will have to use them but the new government is probably already thinking about issuing a brand new currency with the appropriate message on it."
Related Internet Links
The BBC is not responsible for the content of external sites.