Marine killed in Afghanistan 'devoted' father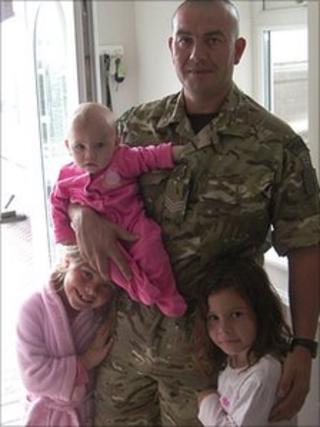 A royal marine killed by a roadside bomb in southern Afghanistan is named by the Ministry of Defence as Sgt Barry Weston, a devoted father of three.
Sgt Weston, of 42 Commando, died while leading a patrol near the village of Sukmanda in the Nahr-e Saraj district in Helmand province.
The 40-year-old, born in Reading, was married with three daughters.
His family said they were "devastated" by the loss of a caring, loving husband and son, and a devoted father.
Sgt Weston served in Northern Ireland, Kosovo, Sierra Leone and Iraq, before being deployed to Afghanistan.
He joined Kilo Company, 42 Commando, in May, as part of the 1 Rifles Battle Group.
He leaves behind his wife, Joanne, and their three daughters, Jasmine, Poppy and Rose.
Sgt Weston's family said: "We are devastated by the loss of Baz. He died doing the job he loved and we are very proud of him."
Lt Col Ewen Murchison MBE, commanding officer of 42 Commando, Coalition Force Nad 'Ali (North), said Sgt Weston was a "lynchpin" in his unit.
'Family man'
He added: "Such was his commitment to the Royal Marines he volunteered, at short notice, to deploy to Afghanistan as a battle casualty replacement.
"His passion for the men in his charge was obvious and he looked after their interests and welfare with a dogged determination. He was like a father figure to them and they looked on him with the utmost respect.
"One of life's real characters, he will be remembered for his dry, sharp sense of humour and canny ability to make light of the direst of situations.
"On the cusp of promotion, he still had so much to give."
Lt Col Murchison said Sgt Weston would be remembered "amongst the great and good" and that he had two great passions - the Royal Marines and his family.
"A loving husband and doting father of three, you could never meet a more committed family man," he said.
Defence Secretary Liam Fox said: "I was very saddened to learn of the death of Sgt Barry Weston, a royal marine of huge experience and great standing within his unit.
"The tributes paid to him are clear - he was a man who represented the very highest of standards and led his men in an exemplary fashion.
"My thoughts and deepest sympathies are with Sergeant Weston's family, friends and comrades."
'Confident stride'
Major Jase Durup, the Officer Commanding Kilo Company, said: "Baz joined the 'Black Knights' of Kilo Company under extremely challenging circumstances in May 2011.
"I have no doubt that an individual of lower calibre would have faltered but he took the situation in his confident stride and it was not long before the men of Check Point SAQRA came to rely on him as a father figure.
"They followed him repeatedly into Sukmanda, the most hostile and violent area in Kilo Company's Area of Operations. It was during one such occasion that Baz made the ultimate sacrifice whilst securing an extraction route out of the contested area for another patrol."