Charity bag household donations sold abroad, says BHF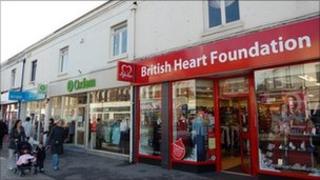 Only a third of items donated to door-to-door charity bag collectors end up in high street charity shops, with most being sold abroad, it has been claimed.
The British Heart Foundation (BHF), which carried out the research, urged transparency from commercial firms used by charities for collections.
The BHF said the companies kept donated goods and resold them for profit.
But the firms said they were completely open and provided a vital service to small charities.
They also argued there was an important difference between legitimate operators, which donate an agreed sum of cash to the charity, and "bogus collectors" who keep the money they make.
The BHF said many charities do deals with commercial companies which collect door to door for them with bags carrying the charity's logo, with donated goods often sold on abroad for profit.
The BHF's research said, in some cases, charities got £50 to £100 per tonne of goods collected - but the items could sell overseas for anything up to £1,800.
As little as 5% of the cash could end up being paid to good causes, the BHF added.
A poll of 2,000 people by the BHF suggested 70% of the charity bags received by an average householder were actually from commercial companies, which were working with charities.
The increase in such home collections has led to an estimated loss of donations made directly to BHF shops worth £4.6m in the last two years, the charity said.
BHF retail director Mike Lucas said : "It is vital commercial companies act responsibly and be transparent on their charity bags - particularly around how much profit the named charity will actually make from a collection.
"Although this is a legal way to raise money, companies working for commercial gain are a huge problem for charities with high street shops.
"BHF shops do not work with these companies and because of this 100% of the profits made from charity bag donations stay with the charity - helping us continue our lifesaving work."
One company, Clothes Aid, said it asked UK householders to donate clothing using its official collection bags and was totally transparent about its operation.
'No-brainer'
Michael Lomotey, from Clothes Aid, said charities which worked with the company got about 94% of the profits it raised, after costs.
"There are about 200,000 charities in the UK and less than 1% of them have the resources to set up shops - so being able to out source these type of collections is a good way of fundraising," he said.
Mr Lomotey added: "Not everyone has money to spend, like the British Heart Foundation does, on a bank of shops."
Clare Glascott, from another collection company, care2collect, said it collects household items for an agreed sum of £50 per tonne to the charities.
But she pointed out the company ran the entire service, including distributing and collecting sacks and processing donations, adding: "For the size of the charities we work with, it's a no-brainer for them."
Ms Glascott said care2collect, which works with the National Blind Children's Society and Action for Children, clearly labelled its collection bags and provided background information on its website.
Responding to the BHF's concerns, she added: "If there was a conflict with the companies like ourselves, it would be the charities that lose out."
Both Clothes Aid and care2collect said the issue of unscrupulous, bogus operators had become more prominent in the last few years.
The BHF released the findings in support of their Big Donation campaign for September, appealing for items with which to stock their 670 shops nationwide.