Should word-of-mouth be child's play for advertisers?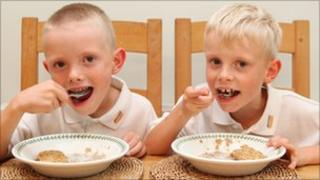 Advertisers are increasingly trying to find ways to get consumers to spread the word about their products, but controversy over the involvement of children in this is forcing the advertising industry to examine its practices.
Personal recommendations can be big business.
Often when advertisers try to convince us of the life-enhancing qualities of some new product, we don't buy it. But a recommendation from a friend can be far more persuasive.
"There is this idea that it is a more trusted source, if you have got members of the public saying how brilliant your brand is," says Charlotte McEleny, senior reporter at New Media Age magazine.
"You trust your friends more than you do marketing messages."
However, concerns over the involvement of children in what's called peer-to-peer marketing were expressed in the recent Bailey Review for the government looking at pressures on growing up.
A particular area of concern was the use of "brand ambassadors", where companies recruit children with perceived influence among their peers, and reward them to promote products face-to-face to friends and online on social networks and blogs.
Cereal-maker Weetabix recently scoured the country for especially busy children, and is paying 15 youngsters - including a pair of seven-year-old twin boys - to wear Weetabix-branded clothing on their most-active days.
The cereal-maker admits that using children in marketing is controversial, but said its scheme was "completely above board" and required parental consent.
While industry rules say children "must not be made to feel inferior or unpopular for not buying the advertised product", the Advertising Standards Authority says the use of child brand ambassadors is not prohibited.
Megan and Gray Milmine, parents of twins Thomas and Jack, say they are "very proud" their sons were chosen to front the campaign.
"Parents know why Weetabix is great for big days, but we need to find different ways of getting that message across to kids," says marketing director Sally Abbott.
'Spreadable as butter'
With young people readily at the forefront of the technology that is changing the ways we communicate with each other, so the ways that advertisers can target children are also constantly evolving.
Free, branded online games - known as "advergames" - are considered one of the fastest growing areas on the internet, and a whole new sub-section of the marketing industry has sprung up to produce them.
The games are considered effective because they expose players to a brand for longer than a conventional advert - and longer still with repeat plays.
If registration details are required to play or record a score, that can mean valuable consumer data for the company.
And the games are easily emailed to friends, delivering viral marketing for businesses.
"As spreadable as butter on hot toast," is how one London-based digital marketing agency describes its advergames.
These games can be a particularly potent form of advertising, suggests Dr Agnes Nairn, a professor of marketing and co-author of the book Consumer Kids.
"Children from really quite a young age, certainly from even four or five, they can tell, 'That's an advert, that's a programme,' and as they get older they develop scepticism towards the advert," she says.
"With an advergame that's not the case because your primary focus is not on the advert, it's on the game.
"So you are having fun with the game, the brand's there in the background, you make an automatic association between having fun with the game and a positive view of the brand, and that sticks in your subconscious without any kind of sceptical awareness around it at all."
Advergames are being used by all kinds of companies and public bodies.
So, while a ban on junk food advertising on children's television was introduced in 2007, youngsters can now spend hours playing online games featuring many of the same brands.
Self-regulation
While these word-of-mouth strategies are still minor in terms of advertising spend in comparison with traditional TV and print campaigns, the level of industry interest is disproportionately high, says Ms McEleny.
"People are quite keen to understand how they can use social media and word-of-mouth because of this opportunity that they see," she says.
"Before, you put your new ad around TV programmes and hoped children talked about it in the playground the next day. I don't think that works so effectively these days."
Marketing on social media allows easy analysis by companies of how their campaigns are being received, Ms McEleny says.
"Some online sites are the new playground," she adds. "That is the opportunity for marketers to get your customers to spread the word - it's not only because it's more trusted, it's cheaper."
Industry figures will admit that, right now, they have little idea of the extent of children's use in peer-to-peer marketing.
But in response to the Bailey Review, the advertising industry is conducting a kind of internal audit of the practices ahead of a meeting with government on these issues next month.
The industry insists that its system of self-regulation remains best suited to stay on top of changing methods, arguing that parliamentary legislation takes too long to keep pace with new techniques.
"Research shows that the more parents understand the rules and regulations governing advertising, the more reassured they feel," says an Advertising Association spokesman.
He adds: "The commercial world is a big part of what makes childhood enjoyable and fun but we must not forget that kids are still learning to understand it."
Steve Barton, global brand partner at Ogilvy One Worldwide, says that it is in the industry's interests to work responsibly in order to maintain credibility.
"If this fledgling industry, word-of-mouth marketing gets undermined by people acting unethically or unprofessionally, then it's not going to grow," he says.
"Secondly, a lot of us are parents, we have kids, our friends have kids, and we're not going to do inappropriate activity for those kids."
But overcoming many people's instinctive concerns about young people's involvement in marketing will not be easy.