Riot sentence 'feeding frenzy' claims anger magistrates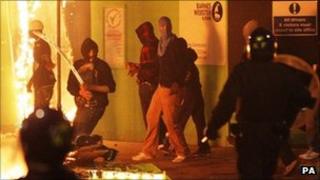 Magistrates have responded angrily to prison governors' accusations they have indulged in a sentencing "feeding frenzy" after the riots in England.
Prison Governors Association president Eoin McLennan Murray said sentences had appealed to a populist mentality.
But Magistrates Association chairman John Thornhill said sentencing had followed guidelines and he was "angry and concerned" by the comments.
Since the riots, the prison population has gone up by more than 1,000.
It reached a record high for the third consecutive week last Friday, standing just 1,500 short of its operational capacity at nearly 87,000.
The most recent Ministry of Justice statistics for court cases relating to the disturbances between 6-9 August estimate that 70% of people were remanded in custody. By comparison in 2010, 10% of those brought before magistrates' courts were remanded in custody.
When it came to sentencing, 46% received a custodial sentence. For equivalent offences convicted and sentenced last year the custody rate was 12.3%, the MoJ figures show.
'Conveyor-belt' justice
Mr McLennan Murray said magistrates hearing the riot cases were ignoring the norms of sentencing and that the media were putting pressure on the judiciary.
He said the magistrates were "choosing at a much greater rate" to use custody rather than bail, and criticised the "conveyor-belt" situation where courts were sitting through the night and weekends to deal with the large number of cases.
"What they have been doing is reflecting the anger and emotion that surrounded it and therefore using custody," Mr McLennan Murray told BBC Radio 4's Today programme.
Mr McLennan Murray said the seven-fold increase in remanding in custody raised concerns that "this kind of speedy, across-the-board justice probably means that a number of people are dealt with unfairly".
But Mr Thornhill said the riot cases occurred in "special circumstances", and added that there had been an increase in custody remands because of a corresponding rise in arrests.
'Heightened atmosphere'
"Yes, there have been more remands in custody than normal, but there have been more offences than normal - 2,000 arrests and more in a very short period of time."
He dismissed claims of influence, saying "the judiciary does not respond to political pressure", and instead looked at the sentencing guidelines and Bail Act and applied them to individual cases.
"That is what has been happening even in this heightened atmosphere," he said.
The Courts and Tribunals Service says legal advisers in court have been advising magistrates to "consider whether their powers of punishment are sufficient in dealing with some cases arising from the recent disorder". Magistrates are able to refer cases to crown courts which have tougher sentencing powers.
Sentencing guidelines
Maximum sentences are fixed by Parliament and there are discounts for early guilty pleas. The Sentencing Council drafts guidelines to promote consistency but judges and magistrates can depart from them when the interests of justice require it. The Court of Appeal also hands down guidance in appeal cases.
Prisons Minister Crispin Blunt has said he believes harsher terms for rioters are justified under case law. But some MPs and justice campaigners have said some of the sentences handed down have been too harsh.
In one case, a district judge (formerly known as a stipendiary magistrate) in Manchester jailed mother-of-two Ursula Nevin, 24, for five months for accepting looted shirts.
A Manchester Crown Court judge later freed Nevin and ordered her to do 75 hours' unpaid work instead.