Iran embassy SAS man John McAleese dies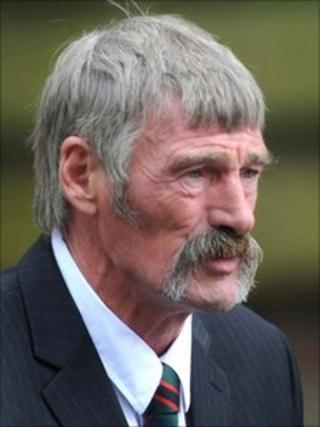 Ex-SAS soldier John McAleese, who took part in the raid ending the Iranian embassy siege in 1980, has died.
Mr McAleese, who was in his early 60s, died on Friday in Thessaloniki, Greece, the Foreign Office said.
His team rescued 24 hostages from gunmen who took over the building in London.
His daughter said he had been reunited with his son, a soldier killed in Afghanistan. "Two great heroes taking their place in heaven," she said.
A Ministry of Defence spokesman said: "We are aware of the death of John McAleese, a hero who served his country bravely and professionally in a military career that spanned many years.
"Our thoughts are with his family and friends at this time."
Millions of television viewers watched SAS teams, dressed in black, storm the embassy on 5 May 1980 to end the six-day siege.
Six Iranian separatists had taken over the embassy and were demanding the release of 91 political prisoners held in Iran, as well as an aircraft to take them and 26 hostages out of the UK.
Then Home Secretary William Whitelaw ordered the SAS attack after the gunmen shot dead Iranian press attache Abbas Lavasani and dumped his body outside the building.
During the SAS operation, five of the gunmen and one of the remaining hostages were killed.
The overall commander of the operation was Lieutenant Colonel Michael Rose, commander of 22 SAS, who later became a General and was the commander of British forces in Bosnia-Herzegovina in 1994.
Heart attack
Hayley, 28, said her father - who went on to present the BBC programme SAS: Are You Tough Enough? - never got over the death of his son, Sergeant Paul McAleese, 29, who was killed by a roadside bomb in Afghanistan in 2009 as he went to help a fatally injured colleague.
She told reporters: "I am sure the grief and stress he had suffered had a bearing on what has happened."
It is understood John McAleese suffered a suspected heart attack.
Tributes have been posted on his Facebook page.
One read: "RIP JOHN...JOINED WITH YOUR SON...2 BRAVE AND REMARKABLE MEN...THOUGHTS ARE FOR YOU AND YOUR FAMILY..."
Another said: "rest in peace john,......another soldier reporting for duty at the gates of st peter. at least now he can be with his son paul, R.I.P true scotsman. true soldier and a true legend of a man :("
Update 30 August 2011: This report has been amended to clarify that while John McAleese played a leading role in events at the embassy, he was not the operation commander.