Wheelchair protester: IPCC partially upholds complaint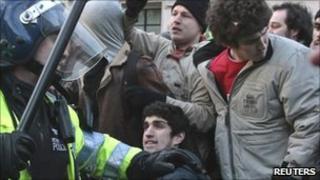 The police complaints watchdog has partially upheld a complaint from a protester dragged along a road after being removed from his wheelchair.
The IPCC said Jody McIntyre might have been assaulted by an officer using excessive force, but said it was too late to prosecute.
Mr McIntyre was taking part in student fees protests in December 2010.
In May Scotland Yard cleared officers who had moved Mr McIntyre based on the "perceived risk" to him.
The Independent Police Complaints Commission said it had now recommended "management action", rather than more serious disciplinary proceedings, against the officer who had dragged Mr McIntyre across the road.
Mr McIntyre was among thousands of people who protested in central London on 9 December against student tuition fees.
He was outside Parliament where he said he was hit by a baton, taken out of his wheelchair and dragged across the road. Footage of the incident was later distributed online.
In a statement, the IPCC said that it had accepted the Metropolitan Police's own findings in relation to a number of Mr McIntyre's complaints.
The watchdog agreed officers had acted appropriately when they removed him from his wheelchair because they believed that he was in danger.
However, the watchdog said one officer had used "excessive force" by dragging Mr McIntyre along the road.
"The IPCC believes there was an indication that a criminal offence of common assault may have been committed and the matter should therefore have been referred to the CPS," said the watchdog.
"However, the six-month time limit in which such a prosecution could be commenced had already passed by the time this appeal was lodged.
"The IPCC has upheld this part of the appeal and believe that that officer's behaviour has fallen below the standards of professional behaviour and should be subject to management action."
The watchdog accepted the Met's conclusion that it could not find a case to answer against any particular officer for the baton strike - but it added that Mr McIntyre should receive an apology because he had a genuine grievance.
Speaking to the BBC, Mr McIntyre said the IPCC report showed he had been mistreated - but he said he could not understand why the watchdog had not criticised his removal from his wheelchair.
"This is clearly a very strange interpretation on the part of the IPCC and certainly not an interpretation that I agree with," he said.
"What they are essentially saying is that the police officer was right to push me out of my wheelchair but then wrong to drag me across the road. It doesn't make any sense to any rationally minded person.
"I think an apology on behalf of the police would be necessary - but this apology is completely insufficient and it's far too little, too late.
"I am currently in discussions with my solicitor about further legal action that we will be taking."