Internet terms make mark on new Chambers Dictionary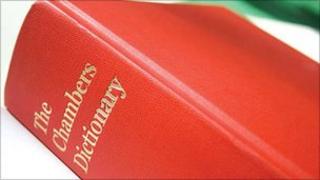 Nearly a quarter of the words added to the new edition of the Chambers Dictionary come from internet culture.
The cloud, paywall and tweet are all included, a "clear indication" of the influence of the web on language, publishers Chambers Harrap says.
The recession and climate change also make a mark with quantitative easing, double-dip, and carbon offsetting among the 200 new words and phrases.
Big society and sexting were judged not to have passed the "test of time".
But they are "possible candidates for the next edition", Chambers Harrap added.
Business euphemisms
The 12th edition of the single volume edition of Chambers Dictionary, which was first published in 1901, contains 620,000 words and definitions.
The new words "herald a wave of geek chic, a more strident green agenda, and the way in which the recession has shaped how we speak today," says the publisher.
Among the other environmental words to be included are upcycle, the practise of turning waste into higher value products, and precycle - avoiding unnecessary waste by buying products with minimal packaging.
National treasure, Neet, man flu, crowdsourcing, paywall and staycation all also merit inclusion for the first time.
The MPs' expenses scandal has ensured flipping was included while the massive US government bailout of companies during the financial crisis - the Troubled Assets Relief Program - saw TARP make the pages.
And there is room for abbreviations popularised by use in emails and on social networking sites such as OMG and BFF - best friend forever.
Chambers Harrap said the new dictionary takes a hard line on "cringeworthy and cliched" English and business euphemisms, citing roadmap, tsar, joined-up, and sea change as among 52 words and phrases to avoid.
David Swarbrick, managing director of Chambers, said: "With topical words like Neet and even kakistocracy - defined as government by the worst - the dictionary holds up a mirror to life today.
"But just as important is the call made for us all to cut down on befuddling English."