Tripoli battle: British forces 'played central role'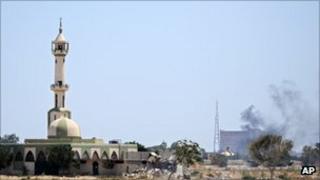 British forces attacked key Gaddafi targets as Libyan rebels made their final advance towards Tripoli, the Ministry of Defence (MoD) says.
RAF Tornado GR4 aircraft attacked a key communications facility in the south-west of the city early on Saturday.
The Baroni Centre, used by Gaddafi regime intelligence organisations, was hit by five precision-guided bombs.
One analyst suggested British forces' input had been "central and decisive" in the battle for the Libyan capital.
Shashank Joshi, associate fellow of the Royal United Services Institute (Rusi), said 22 of the 29 targets struck on Saturday by British forces were in Tripoli.
He said British forces had stepped up their action in response to a surge in internal opposition within Tripoli, which seemed to have been activated by the capture by the rebels of the key town of Zawiya, outside the capital earlier this month.
"As a way of hardening that uprising in Tripoli, and, as a way of weakening regime command and control to help the rebels outside Tripoli, they [British forces] clearly stepped up strikes on the capital."
He said British advisors with the rebels had played an "important role" and Britain's provision of equipment for the rebels, including body armour and communications, had been "significant".
Britain had also carried out more frequent air strikes than any of the other coalition forces, he added.
A senior British military spokesman said that as well as targeting the Baroni Centre, RAF aircraft had destroyed one of Col Gaddafi's main battle tanks on the outskirts of the city.
Later, the RAF destroyed a piece of artillery on the western edge of Tripoli and a nearby command and control facility, Major General Nick Pope said.
At midnight on the same day, Tornado and Typhoon aircraft destroyed another command and control facility, in south-west Tripoli, and later destroyed a fourth installation in Sirte, 240 miles away, he said.
'Apparatus of repression'
On Sunday, UK forces attacked Col Gaddafi's "remaining apparatus of repression" as rebels reached Tripoli, said Maj Gen Pope.
He said RAF Tornado and Typhoon aircraft mounted a strike before dawn on a military intelligence centre in Tripoli, close to the Baroni intelligence centre, which the RAF had bombed 24 hours earlier.
"Nine Paveway guided bombs were delivered with great accuracy on the target," he said.
"Later in the day, an armed reconnaissance patrol identified and destroyed one of Gaddafi's main battle tanks positioned on the outskirts of the city."
At sea, HMS Liverpool conducted surveillance off Tripoli, where crew sighted a small Maltese-registered vessel which had been damaged by hostile fire while leaving Tripoli port, apparently with evacuees on board, Maj Gen Pope said.
The boat was in trouble so "HMS Liverpool passed a line to the vessel and towed her to open waters where she was able to proceed safely", he said.
The Daily Telegraph reports that MI6 officers had helped to hone the rebel fighters' plan of attack over several weeks from Benghazi.
However, the Foreign Office said it could not comment on the role of MI6 for intelligence reasons.
A spokesman for Nato, which is leading operations in Libya, said its policy was not to discuss individual nations' contributions.