Tracey Emin installs neon art in Downing Street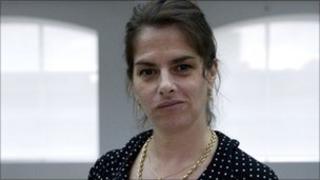 A neon artwork sign reading "More Passion" has been installed in No 10 Downing Street by artist Tracey Emin.
The 48-year-old artist installed it last week after being invited by Prime Minister David Cameron to create a work of art last year.
The sign hangs outside the Terracotta Room, on the first floor of the prime minister's official residence.
Emin has donated the work to the Government Art Collection.
The artist was nominated for the Turner Prize in 1999 for her infamous unmade bed, and is known for similarly candid pieces such as a tent containing the names of all the people she has slept with.
Her neon light installations usually spell out heartfelt messages.
In February, she said she would be installing the neon in a newer room and on plastic, rather than screwed to the wall, as it was a listed building.
"It has to relate to different people on different levels because of all the dignitaries and world leaders and religious groups who go to No 10," she said.
She said the Downing Street piece would not feature any X-rated slogans, which have appeared in past works.
The Sunday Telegraph reported that the Terracotta Room was often used for hospitality purposes and would be visible to those who climbed No 10's main staircase - famous for its adjacent wall of pictures of former prime ministers.
Rooms leading off it include the White Room and a study once used by Margaret Thatcher.
Another recent neon entitled I Never Stopped Loving You, which was installed on the seafront in Margate, sold for almost £59,000 when it went for auction in October.