Council used Premier Inn hotel for alleged offender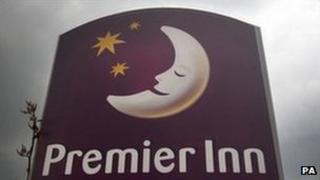 A London council has used a branch of a budget hotel chain to accommodate at least one alleged offender while undergoing criminal proceedings.
Richmond council confirmed to BBC Newsnight that it had used a west London branch of the Premier Inn for the practice.
It said it occasionally used different types of accommodation in such cases.
Premier Inn said it had not been aware of the practice and would be seeking further information.
Richmond upon Thames London Borough Council said it could not discuss any of the details of individual cases.
But it added: "From time to time, and in very particular circumstances, the council could utilise a variety of types of accommodation with support from outreach workers.
"The young person in question was not on remand nor were they subject to a statutory court order to the London Borough of Richmond upon Thames or any other youth offending team."
A spokesperson for Premier Inn, owned by Whitbread, the UK's largest hotel and restaurant company, said: "We do not have an agreement with Richmond council and they do not make us aware of the background of any guests that they may book in.
"Now that this has been brought to our attention we will be in touch with the council immediately to establish more information. Rest assured, we will take all necessary measures to protect the safety and security of our guests."
Premier Inn has more than 580 hotels across the UK and the Republic of Ireland.
The Ministry of Justice said that when a young person was remanded into local authority care "it is entirely for the relevant council to decide how best to accommodate them".
Update 18 August 2011: This story has been amended to take into account clarification from Richmond council that the person involved was not on remand, as previously reported.