Riots show Britain in last-chance saloon, Duncan Smith says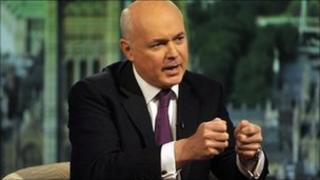 Britain is in "the last-chance saloon" when it comes to solving the "social crisis" at the root of the riots, the work and pensions secretary has said.
In a Spectator interview, Iain Duncan Smith predicted the unrest on England's streets would prove to be a turning point in David Cameron's leadership.
He said he believed the PM saw the riots as just as important to his time in office as 9/11 was for Tony Blair.
"This is our warning... the crisis is coming," he said.
Mr Duncan Smith's comments came hours after Prime Minister David Cameron had defended the courts for handing out "tough" sentences for those involved in the riots amid criticism from some MPs and campaigners that certain sentences were not proportionate to the crimes.
In other rioting-related developments:
Mr Duncan Smith, along with Home Secretary Theresa May, is to present a report in October on tackling gangs.
'Determined'
He told the Spectator: "There has been a lot of focus on debt and the economic crisis. Now, we have to focus on the social crisis.
"The prime minister made it clear that this, now, is his big focus. It is not possible to have watched or experienced any of these riots without realising that we're in the last-chance saloon.
"This is our warning. That wasn't the crisis, but the crisis is coming. We can't let this go on any more, and I think the prime minister sees that."
Asked whether the riots would influence Mr Cameron's leadership in the same way as the September 11 attacks on the US affected Tony Blair's tenure in Number 10, he added: "Well, I think he sees it like that. It's been a reminder to him. He's now determined this is what he wants to do."
He went on to say that the Tory government under Margaret Thatcher may have "freed up the markets" but missed "the next bit".
He added: "Getting society in Britain ready to meet that change. We never did. We ended up with a sort of mid-20th Century society, many locked away in welfarism, and a 21st Century economy. We see now that one cannot meet the results of the other."
He said the report on gangs would "set a template for what we believe as a national position every area should do and we'll expect that to happen".
Mr Cameron has already promised to boost a plan to help 120,000 troubled families through early intervention and Mr Duncan Smith denied that such a programme was unaffordable.
"We're spending a lot of money sending them off to offenders' institutions, to prison, intervening at all sorts of stages," he said.
"You can save a lot of that by getting these interventions right, earlier on."
Measures would include remedial education, work programmes, job interviews and drug addiction rehabilitation, he said.
'Questionable' sentences
So far, more than 3,000 people have been arrested in connection with the riots and more than 1,200 people have been before the courts.
Speaking in Warrington on Wednesday, Mr Cameron said: "It's up to the courts to make decisions about sentencing, but they've decided to send a tough message and it's very good that the courts feel able to do that."
However, some MPs and campaigners have criticised the sentencing as too harsh. Lord Carlile, a Lib Dem peer and Howard League for Penal Reform president, said some decisions were "questionable".
The barrister told the BBC "ringleaders should receive very long sentences" but warned "there was an issue of proportionality" over the way people already before the courts had been treated.
Lord MacDonald, a former director of public prosecutions and also a Lib Dem peer, said it was "difficult to see, on the facts that we know, that there's justification for [the] disparity" seen in some of the sentences handed out.
"I think that leads to injustice in individual cases," he told BBC Radio 4's Today programme, adding that judges must remain "dispassionate" and should not get "swept up in any sort of moral panic".
He said the Sentencing Council currently did not have guidelines for judges and magistrates on how to deal with individual cases in the context of widespread looting and disorder. He urged it to publish some as soon as possible.