Met officers cleared over hacking misconduct claims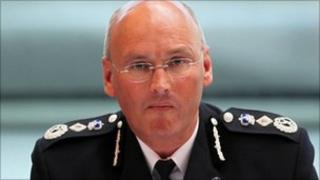 The former Metropolitan Police commissioner has been cleared of misconduct in his handling of the phone hacking inquiry by the police watchdog.
The Independent Police Complaints Commission said Sir Paul Stephenson had not committed any criminal acts.
An independent inquiry will examine claims former assistant commissioner John Yates secured a job for a News of the World executive's daughter.
Two senior officers resigned from their posts in the wake of the scandal.
The IPCC report also cleared Mr Yates, former Assistant Commissioner Andy Hayman and former Deputy Assistant Commissioner Peter Clarke of misconduct over phone hacking.
Sir Paul Stephenson said the outcome was "as I would have expected it to be" and he regretted resources "have had to be expended on this matter".
Mr Yates said he was pleased to be cleared of wrongdoing over hacking, but was disappointed in the decision to further investigate his "peripheral involvement" in the recruitment of the NoW executive Neil Wallis's daughter in a civilian non-operational role.
"I strongly deny any wrongdoing and I am completely confident that I will be exonerated," he said in a statement.
'Different decisions'
The BBC has learned Mr Yates believes the Metropolitan Police Authority "ruined his career" when it referred complaints about his conduct on phone hacking to the IPCC.
Home affairs correspondent Danny Shaw said he was understood to be "utterly furious" with the MPA and is considering legal action.
The officers were cleared after a letter suggesting senior executives at the News of the World knew phone hacking was taking place was published by the Commons culture committee.
Written by former royal editor Clive Goodman as he appealed against his dismissal in 2007, the letter says hacking was "widely discussed" at the paper.
Prime Minister David Cameron said he would have "taken different decisions" over the appointment of former News of the World editor Andy Coulson as his director of communications if he had "known then all the things I know now".
And Tom Watson MP is calling for the murder of a private investigator to be examined as part of the inquiry into the scandal.
He believes the News of the World's links to private investigators could shed new light on the unsolved killing of Daniel Morgan in 1987.
Sir Paul resigned in July following criticism for hiring Mr Wallis - who has been questioned by police investigating hacking - as an adviser.
IPCC deputy chair Deborah Glass said it had affected public confidence in the inquiry.
"But, while there can be little doubt of the effect on the public's mind about the series of revelations regarding connections between senior police officers and News International, the IPCC must identify what is, and what is not, conduct that needs to be investigated," she said.
Sir Paul was referred to the IPCC because of his responsibility for the alleged failings of Mr Yates, but the report said the fact one of his officers might have carried out a poor investigation did not constitute a misconduct offence.
The report also considered Sir Paul's acceptance of hospitality from a family friend at Champneys Medical while he was on sick leave.
Ms Glass said: "The public will make its own judgement about whether any senior public official should accept hospitality to this extent from anyone - or indeed about a policy which regards hospitality as acceptable merely because it is disclosed."
But she said it did not amount to misconduct or require any further investigation.
'Serious issues'
Regarding Mr Yates's rejection of calls to reopen the hacking inquiry in 2009, the report said he had made a "poor decision," for which he had taken responsibility.
"Considering that he has been questioned about his involvement in phone hacking over many hours in six separate Parliamentary sessions, it is difficult to see what further investigation would achieve," Ms Glass said.
It said Mr Clarke, who was responsible for the original investigation, had explained why the huge volume of material seized at the time was not analysed.
It said any inquiry would have to use fairness to judge why this had happened in the circumstances - his team had been dealing with 70 live operations linked to terrorist plots.
Mr Hayman was not responsible for the initial investigation, it said. The report also referred to criticism of his contacts with News International and subsequent employment by the company's Times newspaper.
"While there are serious issues that need to be scrutinised about the extent of contact between senior police officers and the media, and particularly around hospitality, in the absence of any actual evidence of impropriety these are, in my view, for the inquiry to explore," Ms Glass said.