Adair and Stenning set Indian Ocean rowing record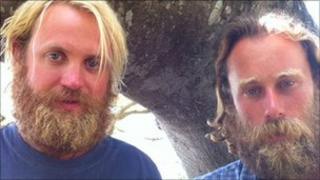 Two young Britons, James Adair and Ben Stenning, have narrowly escaped death after rowing 3,200 nautical miles, unsupported, all the way across the Indian Ocean from Australia to Mauritius.
On Sunday, the final day of their gruelling 116-day voyage, in failing light and in sight of shore, their specially designed 23-foot ocean rowing boat capsized in a massive wave.
They were thrown into the sea - at the mercy of towering breakers that threatened to smash them into the rocks.
"It was a wall of water," said James Adair, 30, from London.
"It just seemed to black out the sky. We knew we were going to get rolled. When it hit us it was a turmoil of white water. Our oars were gone, we were thrown overboard, everything was ripped apart. We just thought we were going to die."
Scrabbling to salvage what they could, the pair grabbed some parachute flares they had been readying to let off to celebrate their arrival. But with their fingers numb from rowing they both ended up cutting themselves as they fired the flares into the air.
"I was bleeding a lot from cuts on my leg so Ben kept looking underwater for sharks," said Mr Adair. "Every time a wave sent us under we would cling to each other."
"We knew we had to get out of there," said Kenyan-born Ben Stenning, 31. "We had to get away from those rocks or it would be game over."
Lacerated torsos
As night fell and the moon rose a rescue helicopter scoured the sea around them with a searchlight but failed to spot them as they waved frantically.
With their boat capsized, their equipment smashed or washed overboard and their antenna broken, they had had to make a life or death decision: to abandon the crippled boat or stay with it in the hope of rescue.
They chose to swim for it but strong currents made it almost impossible for them to reach shore.
Instead they were washed onto a coral reef which they crawled across to escape the breakers, dressed only in ripped cycle shorts. Their lacerated torsos bear the scars.
Meanwhile a flotilla of local Mauritians set out in boats to find them after their onshore navigation officer on the Mauritian mainland raised the alarm when he lost radio contact.
The pair's families who had flown out to Mauritius to meet them were beside themselves with worry, knowing only that their shipwrecked boat had been found but that both men were missing.
Then by pure chance one of the Mauritian rescue boats found an oar close to where the pair were stranded on shallow coral, still far from shore and shivering with cold, exhaustion and dehydration.
Spotting the boat, the pair screamed "Help!" at the top of their lungs and wolf-whistled. It worked.
The men brought mattresses and dragged them across the razor-sharp coral to their boat and then handed them over to their waiting families.
"There were a few tears at that moment," admits Mr Adair. "These were the first faces we'd seen in 116 days so we had a bit of an arrival party."
Mr Adair and Mr Stenning are now recovering onshore, their Castaway beards washed and cleaned; their coral wounds tended to.
Amateur ocean-going rowers to the end, they are still coming to terms with having successfully crossed the Indian Ocean with almost no training and no support team; taking it in turns to row three hours on, three hours off, day and night.
It is the first time a pair has rowed across the Indian Ocean without a support boat and they are the third men in history to complete the distance, says race organiser Simon Chalk.
Their £15,000 boat may be in ruins but they are strangely proud that their mascot, Paddington Bear, has survived intact, lashed to the prow and missing just one Wellington boot after 3,200 miles.
"I suppose we will have to get back to reality in London now, catching the tube to work, topping up the oyster card. Hmm," said Mr Adair.