Prison population at a record high after riots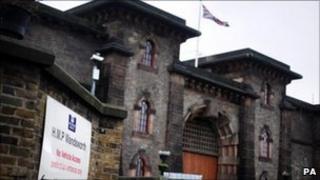 The prison population in England and Wales has reached a record high - up 440 since riots hit parts of the UK.
There are now 85,324 prison inmates, with less than 2,000 places spare.
But the government says there is still room for anyone jailed in relation to the rioting and disorder in England since last Saturday.
The Ministry of Justice says it is "fairly confident" it can get the "headroom" it needs in prisons but contingency plans are in place.
These include putting an extra bed in a two-person cell, so that three prisoners would have to share one cell, it says.
The Youth Justice Board says there is also "ample" spare capacity in secure children's homes and secure training centres which hold young offenders from the age of 10.
The MOJ's numbers include prisons and young offender institutions.