Riots: Tough justice in London's courts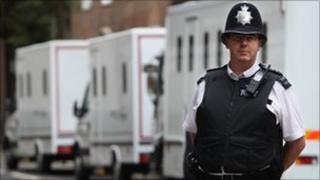 Westminster Magistrates' Court has been working round the clock to help deal with the 922 arrested and 401 charged over the London riots. Here's a snapshot of proceedings.
Saffron Armstrong tried to explain that he had gone into a looted computer store because he was inquisitive - and a freelance journalist.
This drew sniggers from the press bench, but not from district judge Elizabeth Roscoe, who told him he faced a prison sentence.
The 22-year-old pleaded guilty to burglary after being arrested in a PC World store in Colliers Wood, south London, the day after it was hit by looters.
The accounting student from Mitcham, who also worked for Marks and Spencer, was remorseful and admitted his intentions had "not been for the best".
Nails chewed
It was a pattern which was repeated throughout the morning as defendants including students, an estate agent and an aspiring ballerina were brought up from the cells.
Two had handed themselves in to police - one after she saw her picture in a national newspaper.
The 17-year-old girl, whose lawyer said she wanted to be a dancer, was accused of stealing two televisions from the Richer Sounds store in Croydon on Monday.
The electronics store had £190,000 of stock raided and was left with £15,000 of damage in the riots.
She anxiously chewed her nails as the judge made arrangements for her to appear at a youth court next week.
Another woman, a graduate and aspiring social worker, also handed herself in to police the day after stealing a £300 television from a Comet store in Enfield.
Natasha Reid, 24, from Edmonton, had been on her way to McDonald's when she saw the store had been broken into.
Her lawyer said she had gone to the police as she could not sleep through guilt.
Tough sentences
On Tuesday, Prime Minister David Cameron said anyone convicted of violent disorder would go to prison.
And in a brisk, efficient manner, the district judge in court five seemed to be ensuring that this happened.
In each case, she would listen carefully as the defendants' solicitors made arguments for community sentences or for them to be granted bail.
Then she would say the circumstances rendered their offences too serious, before referring their cases to the crown court, and its tougher sentencing powers.
The case of Charlie Heron, 18, epitomised the approach.
The unemployed cannabis user from Roehampton admitted buying £248 of sports clothes from a "crack head" for £50 - items which had been looted from JD Sports in Clapham Junction the previous night.
The offence, which would ordinarily result in a fine or conditional discharge, saw him remanded in custody and sent to crown court for a probable prison sentence.
"At this time, anyone who buys stolen goods of this nature, from well-publicised rioting and stealing from shops is very much in the same position as the person who stole the goods," Judge Roscoe told him.
'Looking for a thrill'
Almost 100 people appeared at Westminster overnight, with prosecutors working 17:00 to 09:00 shifts.
About 30 more people charged with offences linked to the rioting were to appear before the court before the end of Thursday.
Despite appearing stressful for the lawyers, who were often without their complete paperwork, proceedings appeared to be passing smoothly.
Between riot cases there was time for some which are dealt with on a more typical day in a magistrates' court - a man losing his licence for drink driving, and a woman denying pulling a barmaid's hair.
The court was packed with press, including a contingent from abroad - between cases British journalists were busy explaining the vagaries of the justice system to their French counterparts.
Last up before lunch was James Haung, 19, arrested on Tuesday night in Camberwell wearing a balaclava and gardening gloves.
He denied a charge of going equipped to steal, having told police he was "just looking for a thrill".
He too, was remanded in custody, to appear at crown court at a later date.
Of the eight cases heard during the morning - others involved charges of affray following a scuffle with police in Lambeth and someone found carrying a knife in Hackney - none were released on bail, and all were sent to the crown court for sentencing.
Outside, police officers guarding the court, where prison vans lined the streets, were keen to hear of the punishments being meted out to the people arrested in the preceding days.