England riots: Dangers behind false rumours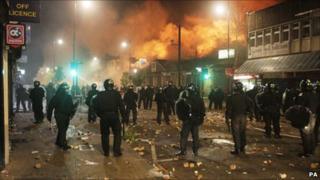 As riots spread across England this week, so too did a wealth of misinformation about them, fuelled by social networking sites like Twitter. How damaging are false rumours amid mass unrest?
From the moment violence broke out in Tottenham, north London, on Saturday night, rumours about the cause have been swirling.
We know a peaceful protest was held over the fatal shooting by police of a man, but the trigger for the rioting that followed remains unclear.
Witnesses said a teenage girl had been knocked to the ground by police after she threw a stone at officers - allegations police say they are investigating.
But whether or not a girl was attacked, the rumour quickly spread through the crowd and then on via mobile phones and the internet to the rest of the UK and beyond.
'Weak social bonds'
The speed at which this happened is a reflection of the increasingly connected society we live in.
As the rioting moved to other parts of London and England, inaccurate - at times inflammatory - information began appearing on social media sites.
In Lewisham, south London, 200 "nationalists" were said to be marauding through the streets.
In London's Square Mile, there were false rumours that Canary Wharf was on "amber alert", and Portsmouth's Gunwharf Quays shopping area was said to be ablaze.
Elsewhere, shopkeepers unnecessarily closed up early amid false reports of looting.
Norfolk Police publicly criticised Twitter and Facebook users for posting "fictitious and malicious rumours" that civil unrest had spread there. It was not the only force to do so.
In times of uncertainty or heightened fears in communities, rumour mills have always churned.
But in a world of social media, a whisper can acquire a damaging momentum regardless of its relationship to the truth.
"The problem with social media or the internet is how quickly this information can spread," said social psychologist Aleks Krotoski.
"Misinformation has been around for a really long time, but historically there have been gatekeepers to confirm things externally."
She said although there are online gatekeepers - curators and editors - false rumours are too pervasive and move too fast for them to be effective.
Hadley Beeman, who designs social media technology, said people who had turned to Twitter in greater numbers throughout the unrest had not been filtering information carefully enough.
"Most people using Twitter are used to the idea that they need to take what they're reading with a grain of a salt," she said.
"It's the responsibility of the reader to filter what they read. In the same way, when you listen to people's conversations, you don't necessarily take every bit as gospel truth."
She said it was far easier to pass on short bits of information without any context or background on Twitter, as opposed to other mediums, because of its 140-character format.
The site was good at connecting like-minded people, she added, but warned that a lack of context behind comments made it easy for people to interpret them in the way they wanted.
She said: "Take Twitter as a starting point for research. You need to ask further questions and proceed with caution, particularly during riots."
And social media consultant Matt Rhodes said: "There's a danger of thinking that because something is on Twitter, it's true. People have some kind of trust in things that are published."
Like-minded people
He said the site was a great example of "weak social bonds" and people were beginning to build their own small community of people they could rely on and trust for information.
Hampshire Police told the BBC they had been working round the clock to dispel "rumours and myths" after hundreds of Twitter postings since Monday evening.
Police themselves used Twitter to reassure and calm the public, pointing out that there was no trouble and they were not at risk.
A spokeswoman said the numbers following the force on Twitter (@HantsPolice) had risen from 3,000 on Monday to more than 13,000 by 10:00 BST on Thursday.
Similarly the force's Facebook hits leapt from about 2,000 to 8,000 over the same period.
Some Twitter postings, such as one saying "Let's show London how it's done", are being investigated by officers to see whether they could be seen to incite disorder.
The spokeswoman said these sorts of comments had been saved and the author had been sent the following message: "It's an offence to commit or encourage riot. Your message has been referred for consideration for criminal investigation."
Hampshire Police and Gwent Police are among the forces which have arrested people in connection with the misuse of social networking sites to incite crime.
Scotland Yard's Deputy Assistant Commissioner, Steve Kavanagh, said: "Social media and other methods have been used to organise... greed and criminality."
On Thursday, Prime Minister David Cameron addressed the issue in the Commons, ordering a review of social media in disturbances to learn lessons from the riots.
In the meantime, Twitter users angered by the way their site has been misused have hit back themselves.
Under the hashtag "Stoptherumours", they have begun highlighting examples of false information connected to the unrest.
"Just back from Tooting Sainsburys. Fully stocked, no damage, no panic buying, streets fine. A few sirens, but this is London," reads one post as a case in point.