England riots: More accused of web incitement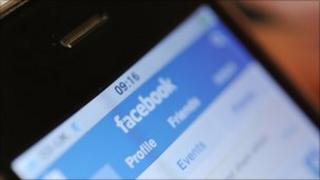 More people are being accused of using social media to incite disorder, following days of rioting and looting.
On Thursday, an East Sussex man and two Lancashire men were among those charged with using Facebook to encourage or assist in the commission of crimes.
In Guernsey, three men were accused of misusing a social network site.
David Cameron told MPs the government is looking at whether people should be stopped from using social networks if they are known to be planning crime.
Violence, disorder and criminality
In an emergency Commons statement on Thursday, the prime minister said everyone would be struck by the use of social media to organise the recent disorder.
"Free flow of information can be used for good. But it can also be used for ill," he told the House. "When people are using social media for violence we need to stop them.
"So we are working with the police, the intelligence services and industry to look at whether it would be right to stop people communicating via these websites and services when we know they are plotting violence, disorder and criminality."
Home Affairs Select Committee chairman Keith Vaz has also promised that MPs will examine the use of social networking during their inquiry into the riots.
"We are also going to be looking at social networking and how that played a part in the way in which people suddenly decided to congregate and engage themselves in this kind of criminal activity," he said.
Police have said they are monitoring social networks closely and will track down those responsible for threatening messages.
Latest charges
A boy, 16, and an 18-year-old man will face charges of using social networks to incite violence when they appear in Essex courts later. Steven Jones, 18, of Grays, will appear at Basildon Magistrates' Court and the 16-year-old boy, from South Ockendon, will appear at Southend Youth Court. Both were arrested on Tuesday and are being held in custody.
Nathan Sinden, of St Leonards-on-Sea, East Sussex, was arrested on Wednesday by police investigating reports that Facebook posts had encouraged disorder. He will appear at Hastings Magistrates' Court later charged with "intentionally encouraging/assisting" the commission of burglary and criminal damage".
Lancashire men Christopher Schofield, 25, of Nelson, Lancashire and Warren Calvert, 19, of Heysham, have been charged with intentionally encouraging or assisting in the commission of an offence. Mr Schofield was bailed to appear before Burnley magistrates on Monday. Mr Calvert is due to appear before Lancaster magistrates on 25 August.
Cheshire police say a 24-year-old man from Runcorn, a 22-year-old man from Warrington and a 16-year-old boy from Macclesfield will appear before magistrates on Thursday accused of inciting public disorder through postings on social network sites. The three were arrested on Wednesday and remanded in custody.
The three Guernsey men were charged and bailed for allegedly trying to use Facebook to incite a riot in Guernsey; an offence under the island's telecommunications law.