Twitter users in incitement arrest warning after riots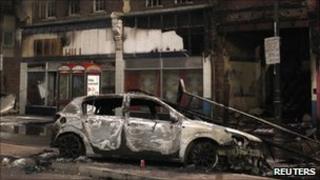 Twitter users could face arrest for inciting violence during two nights of unrest in London, police have warned.
Deputy Assistant Commissioner Stephen Kavanagh said some messages on the website had been "really inflammatory" and officers were investigating as part of its probe into looting and rioting.
BlackBerry Messenger allows users of the smartphone to contact large groups and is also said to have been used.
BlackBerry maker Research in Motion says it would "assist" the authorities.
Violence in Tottenham started after a peaceful protest over the fatal shooting by police of Mark Duggan, 29. Disorder and looting then spread to other areas of the capital.
Deputy Assistant Commissioner Kavanagh has vowed to deliver "speedy justice" for Londoners.
When asked by reporters whether officers would consider arresting tweeters in relation to incitement to violence, Mr Kavanagh said "absolutely".
He said: "That investigation is already under way and that is exactly the sort of thing we are looking at."
Police patrols will be stepped up again on Monday night, with many officers voluntarily abandoning scheduled leave, he added.
Patrick Spence, managing director of global sales and regional marketing at BlackBerry UK, said the company "feels for those impacted by this weekend's riots".
"As in all markets around the world where BlackBerry is available, we cooperate with local telecommunications operators, law enforcement and regulatory officials," he said.
"Similar to other technology providers in the UK we comply with The Regulation of Investigatory Powers Act and co-operate fully with the Home Office and UK police forces," he said in a statement.
However, some experts fear the extent to which technology is to blame may have been overstated.